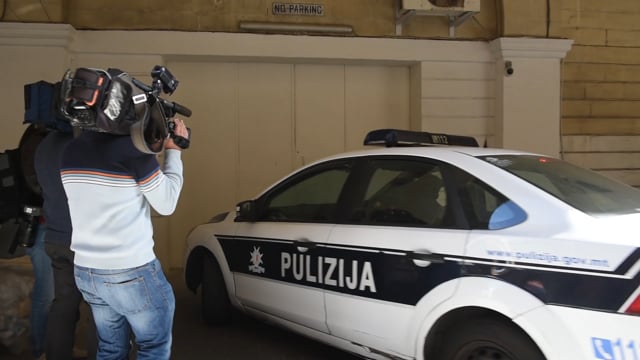 A now, former, policeman wept bitterly in the dock as he was arraigned on charges of rape and harassment of a fellow officer.
The accused's lawyer Alfred Abela entered a plea of not guilty to charges of rape, illegal arrest, sexual harassment, committing a crime he was duty bound to prevent.
The man was charged with raping one female officer at the police station where they were both stationed and sexually assaulting another in a police car in the months leading up to the 8 March this year.
Abela asked the court to order a ban on publication of any of the details of the accused as this would have repercussions on the victims and their police work. "Otherwise it would be impossible for the women to continue with their jobs," he said.
The prosecution agreed and seconded the request. The court, in view of the particular circumstances of the case prohibited the press from publishing any of the details of the accused or his victim on all media.
From the dock, the accused told the court that he was unemployed as he had resigned from the police force this morning. He denied the charges and requested bail.
The defence requested that in the first hearing of the case, the victim be summoned to testify in order that the court and the parties be able to establish their positions. The court upheld the request and ordered the prosecution to summon the victim in the next sitting, which will be happening tomorrow.
Abela asked the court to order a social inquiry report and impose a treatment order "so that we can start working immediately."
After approaching the bench and discussing the case out of earshot of the public for some time, the prosecution said they would be objecting to bail on a number of grounds. The defence argued that the only reasons for which the accused could be justifiably be held in custody is the gravity of the offence, but the prosecution then told the court that it feared the accused would harm himself.
Bail was denied, but a request by the defence, for the accused to be held at Mount Carmel's Forensic Ward, was upheld.
A protection order was issued in favour of the female officers involved.
In a statement on Monday evening, the police said the 27-year-old police constable is expected to be charged in court with raping a fellow officer and violent indecent assault and sexual abuse of another officer.
Sources have told MaltaToday the alleged case of rape happened at the Msida police station, where the male officer was stationed. The other charges are related to another case involving a different female officer, who alleged sexual abuse while in the district police car with the male colleague.