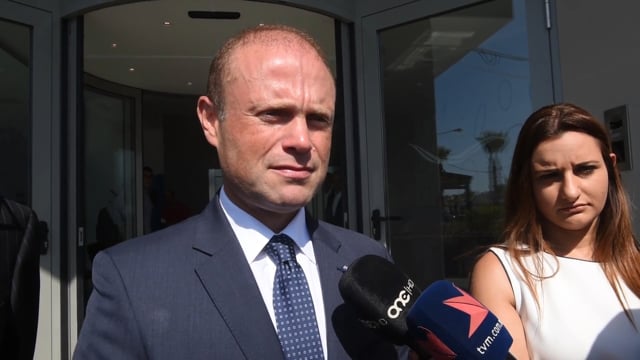 Joseph Muscat says beefing up security in Marsa and Hamrun not an act of racism
The authorities are studying ways to ensure the heavy police presence witnessed in the streets of Marsa and Hamrun over the past few weeks will be more permanent, Joseph Muscat said.
Police presence in the locality was beefed up following multiple complaints from residents of unruly behaviour by migrants living in the locality.
The Prime Minister said on Thursday that enforcement had to be implemented irrespective of a person's nationality.
The Nationalist Party has picked on the issue, criticising government's migration policy. Some of the party's exponents have also taken issue with shops opened by migrants in the Hamrun and Marsa area, while others have been regularly posting photos of migrants sleeping on benches in public gardens.
Opposition leader Adrian Delia, on Sunday went a step further and spoke of a threat to Malta's identity by the influx of foreigners, an incendiary message heavily criticised by human rights groups.
Asked about the issue, Muscat said he never denied the existence of anxiety among Marsa and Hamrun residents, insisting he had been criticised for sending the police and the army to beef up security in the localities.
He insisted that enforcement had to be carried out independently of the person's nationality.
"Only this week I saw a video online of two people fighting… if they were black many would be crying shame, but these two were Maltese. Enforcement has to be implemented irrespective of whether those who break the law are Maltese or foreigners," Muscat said.
He added that "it is not racism" to enforce the law, like is being done in localities like Marsa where people in some streets may feel threatened by the unruly behaviour of others.
"We are looking into ways to ensure that the forceful police presence we had in Marsa could become more permanent and not remain a sporadic one-off initiative," he said.
READ ALSO: Five reasons Adrian Delia's tough migration talk can turn toxic on him