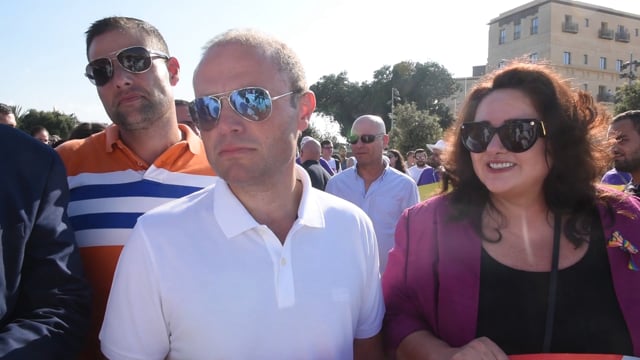 Valletta celebrates Gay Pride 2018
Malta's Gay Pride was in full swing as civil rights organisations and political leaders met on Triton Square in Valletta, Europe's capital of culture.
The celebrations were as expected a colourful message of diversity, attracting representations even from the private sector such as HSBC Malta and 89.7 Bay, and the President's Foundation for Social Wellbeing.
The celebrations started at 4:30pm, where people and floats then passed through Valletta and made their way to Herbert Ganado gardens for a free open-air concert.
Saturday's Pride parade was the culmination of a week's worth of activities celebrating the LGBTIQ community, and the second since Malta passed a marriage equality bill into law.
Strong, united @PL_Malta team celebrating #equality, #inclusion, #Diversity #diversityisastrength
Prime Minister @JosephMuscat_JM cuts @pridemalta cake before we all go to #Valletta for #pride 🌈march pic.twitter.com/hNRirS5QgV

— Helena Dalli (@helenadalli) September 15, 2018
Official buildings flew rainbow flags to mark the occasion. Prime Minister Joseph Muscat was as expected one of the people in the crowd, together with members of the government Cabinet and the Labour Party.
"The number of people who have come here show that we needed this legislation to be drafted and implemented," he said of his government's raft of laws that pushed Malta to the top of the European league of gay and trans rights since 2013.
Asked whether legislation had made its impact on public opinion, Muscat said that "public opinion needs to be helped by legislation, but not remain stagnant on certain issues."
Also present was Opposition leader Adrian Delia, together with MP Karl Gouder and MEP candidate Michael Briguglio.
European Affairs Minister Helena Dalli, who piloted the laws as minister for civil liberties, said she had been pleased by a large outcome from heterosexual individuals and families who were celebrating Gay Pride.
A large portion of the crowd were also tourists and foreigners, some of whom came to Malta specifically for the parade.
LGBT+Gozo, the first and only Gozitan pride group, said the celebrations were of major importance to them. "We made progress as a society," President Eman Borg said. "Pride will always be important, however, because this is about many people discovering who they are during one celebration."
MGRM president Colette Caruana Bennet said that Malta's advanced legislation was not everything. "Social movements, education and public support, still need to be tackled from an LGBT point of view."
For the first time, the banner of the Global Network of Rainbow Catholics formed part of the parade. Local organisation Drachma is a member of the GNRC, and in a statement it called on the Vatican to start a dialogue about changing the language used to describe LGBTIQ in Catholic catechism.
"We urge the Church to be more inclusive and embracing towards LGBTIQ youth, especially in the upcoming Youth Synod, where they should be visible and represented," Drachma said.
It noted that gay priests and other LGBTIQ members of religious orders were forced to live "closeted lives in a shame and anxiety".
"Church officials should be seeking to address these issues and GNRC (and Drachma) is offering a safe space where this may happen together in trust and a spirit of collaboration," it said.