[WATCH] Update 3 | Stranded migrants will be brought ashore after EU countries pledge support, Joseph Muscat says
Maltese Prime Minister Joseph Muscat says the 49 migrants stranded for days on two NGO ships will be transferred to an army patrol boat and brought ashore after an ad hoc agreement between several EU member states on relocation • Migrants rescued by Malta will also be relocated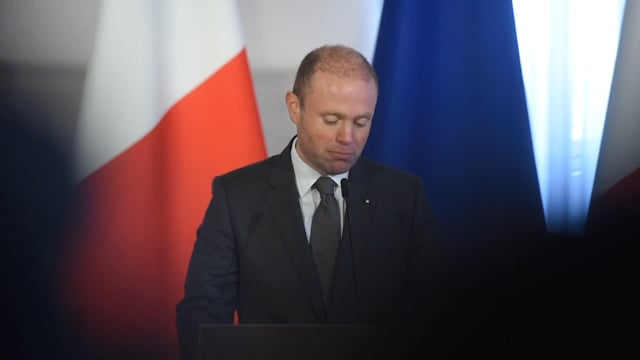 Joseph Muscat says Malta has done more then what is required in migration standoff
Updated at 3:30pm with migrants reacting to news of disembarkation
The saga involving 49 migrants stranded for days aboard two NGO ships off the Maltese coast has come to an end after Prime Minister Joseph Muscat announced that an ad hoc agreement over relocation was reached between several EU member states.
Muscat said the relocation agreement also covers a substantial part of the 249 migrants rescued by Malta over the Christmas period. The European Commission will be involved in the repatriation process of 44 Bangladeshi nationals who do not qualify for protection.
The Prime Minister told a press conference in Valletta on Wednesday that the NGO vessels will not be allowed to berth in Malta and the transfer of people to an army patrol boat will happen offshore. The two NGO ships will have to leave Maltese territorial water once the transfer happens. The migrants are expected to disembark at the army base in Haywharf later today.
Migrants onboard the vessels burst into jubilation when they were informed that their ordeal had ended and they will disembark in Malta.
"C'est fini!"#SeaWatch #SeaEye #United4Med pic.twitter.com/sUY4GXBlJZ

— Sea-Watch Italy (@SeaWatchItaly) January 9, 2019
Muscat said Germany, France, Portugal, the Netherlands, Ireland, Romania, Luxembourg, and Italy gave the European Commission a written commitment that they will participate in the relocation process. Malta will be taking in 74 migrants.
Muscat said Malta was doing far more than other EU members states by accepting 74 migrants. This is an ad hoc agreement that only covers the current standoff.
He reserved strong words for the NGO vessels that have been rescuing migrants in the Mediterranean, insisting they should also abide by the rules and obey orders from competent authorities.
"NGOs should follow the rules and not expect countries to solve the problems they create," he said, insisting European states also had to adhere to international obligations.
Muscat said that by reaching this agreement, Malta had gone beyond what was required. He thanked the European Commission and the eight member states for their willingness to participate in this ad hoc relocation programme. "The European Commission coordinated this effort and understands Malta's concerns, stepping in to provide much needed assistance."
Muscat said he was thankful to European Commission President Jean-Claude Juncker for taking a leadership role in this situation.
"The NGO boats will be asked to leave the territorial waters immediately. Malta is a very small country. It is in our nature to help those in distress but as Prime Minister I have to safeguard my country's security," he said, adding that Malta had the support of the EU institutions on this matter.
Responding to questions from the press, Muscat said the rescued migrants aboard the NGO vessels had been caught in "a bureacratic trap". "It's not their fault and not our fault either. There is no ideological concern because we continued rescuing people," Muscat said.
Responding to a question asking whether 49 stranded migrants were made to wait at sea while a solution was being reached on the other 249 migrants, Muscat said that it was unfair to say that someone was made to wait when they were not asked to come.
I am glad that our efforts to disembark the migrants on boats in Malta have brought results and that all those on board are being disembarked right now. I commend Malta for allowing this disembarkation and the Member States that showed active solidarity in accepting the migrants. https://t.co/fxs2qohcRp

— DimitrisAvramopoulos (@Avramopoulos) January 9, 2019
No legal action will be taken against the NGOs.
European Migration Commissioner Dimitris Avramopoulos commended Malta's efforts in a tweet.
"I am glad that our efforts to disembark the migrants on boats in Malta have brought results and that all those on board are being disembarked right now," he said.
NGOs react: "disembarkation finally"
A total of 62 NGOs have released a statement following Joseph Muscat's announciation of the relocation agreement, saying that the news is very much welcomed.
"Disembarkation will ensure that they are provided with safety, shelter, and care," they said.
On the sharing of responsibility amongst the EU member states, the NGOs said that they appreciate the collective solidarity and it is through such essential sharing that the EU will be able to deal effectively with forced migration in a manner that is both fair and respectful of fundamental human rights.
"We underline the need to ensure that each and every one of the migrants is granted full access to asylum procedures so they will be able to get the protection that they need," the NGOs said, adding that they hope that such a situation would not happen again and that respect for life will remain at the heart of Malta's approach towards refugees and migrants.
Maltese bishops welcome decision
The bishops of Malta and Gozo expressed their appreciation for the solidarity "finally shown" with the 49 migrants by Malta, eight European countries and the European Commission.
"We are also grateful to all the organisations that have promoted concrete solidarity with the people involved… We recognise that Malta, the smallest EU member state, was neither the responsible authority nor the nearest port of safety when these migrants were rescued, and laud the efforts made by all parties involved to ensure that human life prevails over every other interest," the bishops said.
Archbishop Charles Scicluna, Gozo Bishop Mario Grech and Auxiliary Bishop Joseph Galea-Curmi had appealed to the government to allow the 49 migrants to disembark and urged the EU to show solidarity.