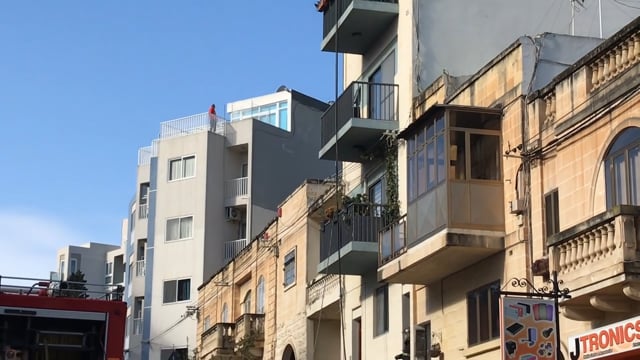 Man dies in Msida apartment fire
An elderly man died after his apartment caught fire following what is believed to be an accident caused by a gas heater cylinder.
Joe Dimech, 70, was in his fourth-floor apartment in Triq Oscar Zammit, Msida, close to the Junior College, with his 66-year-old wife and 20-year-old son when the building burst into flames at around 7am.
The man's lifeless body was discovered in a shaft at the back of the apartment block after firefighters deployed a drone.
The man's wife and son managed to escape and are recovering in hospital. It is understood that they sustained serious injuries.
Members of the civil protection department were soon on site to put out the flames. An intensive search of the flat to find the man yielded no results until a drone was deployed over the building.
The man's body was located in a narrow shaft at the back of the building. It is believed the man tried to escape the flames by climbing down the shaft.
Neighbours, who described the man as "affable" and "always ready to cheer you up", burst into tears when news emerged that his lifeless body was located.
Dimech had also been a driver to PN MEP Francis Zammit Dimech when he was a minister.
Shocked by the tragic death of Joe Dimech who served as my driver when I was Minister. I remember Joe as a very hard working and a jovial person, never failing to lend a helping hand to all who needed it. My deepest condolences and utmost solidarity to his family. pic.twitter.com/M4xiCYMJpT

— F Zammit Dimech (@FrancisZD) February 27, 2019
Magistrate Simone Grech is leading an inquiry, while police investigations are ongoing.