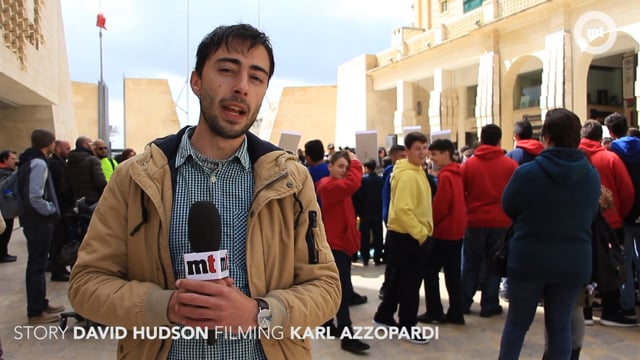 Students march in Malta climate strike
The Malta University students council (KSU) rallied students from the University of Malta to march towards Parliament in Valletta, joining thousands of students and youths in 92 other countries to demand that government, authorities and stakeholders take the necessary action to halt climate change.
Traffic was halted from University to Valletta for the safety of participants walking in the demonstration.
University students were also joined by two 10-year-olds, Antonio and Lily, encouraged by Maria Regina school to write up their banners in class and to join the demonstration. Education Minister Evarist Bartolo also attended and together with Labour MEP Miriam Dalli held up the banner that fronted the march. Other school-age students joined the demonstration in Valletta.
Education Minister Bartolo told MaltaToday that these strikes "come before education in the classroom precisely because they were educating students across the world about an issue that was extremely pressing."
St Albert the Great College students and members of the Eco School Committee, accompanied by school principal Mario Mallia, were encouraged to demonstrate and to join the students outside the Parliament buildings. Students made speeches when the University students joined them from their march.
The school climate strikes that have led to tens of thousands of young people taking to the streets around the world over recent months are poised to arrive in the UK next Friday. Thousands of pupils are expected to walk out of lessons at schools and colleges across the country amid growing concern about the escalating climate crisis.
The movement started in August when the 16-year-old schoolgirl Greta Thunberg held a solo protest outside Sweden's parliament. Now, up to 70,000 schoolchildren each week are taking part in 270 UK towns and cities worldwide.
The world's leading climate scientists have warned there is only a dozen years for global warming to be kept to a maximum of 1.5ºC, beyond which even half a degree will significantly worsen the risks of drought, floods, extreme heat and poverty for hundreds of millions of people.
The authors of the landmark report by the UN Intergovernmental Panel on Climate Change (IPCC) released on Monday say urgent and unprecedented changes are needed to reach the target, which they say is affordable and feasible although it lies at the most ambitious end of the Paris agreement pledge to keep temperatures between 1.5ºC and 2ºC.
The world is currently 1ºC warmer than preindustrial levels. Following devastating hurricanes in the US, record droughts in Cape Town and forest fires in the Arctic, the IPCC makes clear that climate change is already happening, upgraded its risk warning from previous reports, and warned that every fraction of additional warming would worsen the impact.