'Part of Us': Heritage Malta launches its new brand identity
Heritage Malta has launched its new brand identity, which includes its new slogan 'Part of Us', a new logo inspired by Maltese stone and by the traditional local craft known as 'tberfil'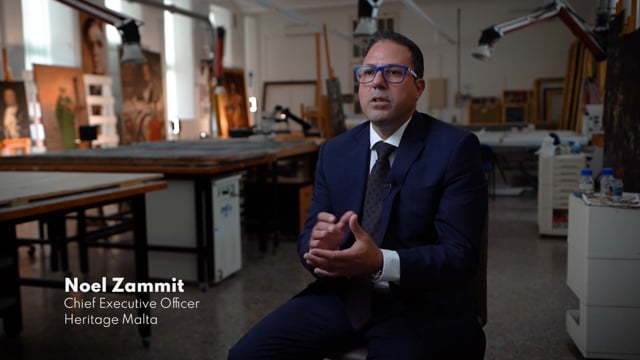 'Part of Us': Heritage Malta launches its new brand identity
Heritage Malta has launched its new brand identity, which includes its new slogan 'Part of Us', a new logo inspired by Maltese stone and by the traditional local craft known as 'tberfil', as well as a completely revamped website.
The new Heritage Malta logo summarises concisely what the agency stands for. The middle empty space, forming the letter 'H', refers to the intangible heritage of the Maltese Islands. The top part of the logo symbolises the historic sites on land, while the lower part represents our underwater heritage. The logo retains its form even if rotated.
The slogan 'Part of Us' was chosen because Heritage Malta firmly believes that the cultural patrimony passed down to us, both tangible and intangible, is our collective responsibility as a nation and we must all do our part to safeguard it and to leave it to our successors in a better state than we found it. The history and culture of our country are part of all of us — Maltese families who have been living on these islands for centuries, those who have chosen Malta to be their home, and also those who visit us for a short time from all over the world.
Addressing a press conference, Heritage Malta's Chief Executive Officer, Noel Zammit, explained the concept behind the agency's new brand identity. He said that this is not simply a new look, but it marks the beginning of a new chapter in Heritage Malta's story. In this new voyage embarked on today, Heritage Malta will remain loyal to its roots and its mission while also venturing into new areas.
"We want to shift away from the idea of the museum as a static showcase, and move towards dynamic, people-focused museology; we must ensure that our design and interpretation are based on the needs and expectations of our audiences; we want our museums and sites to come alive with the creation and exchange of information and ideas. We must continue to strengthen what we have achieved so far thanks to our investment in technology, including the digitisation of the National Collection, software for the management of human resources and other internal processes, the latest equipment for the Diagnostic Science Laboratories, and a Collections Management System," said Noel Zammit.
Heritage Malta Chairman Anthony Scicluna spoke about the internal restructuring implemented by the agency over the past two years, despite considerable setbacks brought about by the pandemic. This exercise saw the consolidation of various
departments as well as a heavy investment in people and equipment. Through this transformation, Heritage Malta is now more relevant and efficient and therefore in a better position to devise strategies for entire regions and to embark on major, prestigious projects that were previously impossible due to the substantial challenges they entail.
For the launch of its new brand identity, Heritage Malta organised an evening of cultural entertainment to which Heritage Malta employees and several stakeholders were invited. Addressing those present, Minister for the National Heritage, the Arts and Local Government, Owen Bonnici, said that few agencies or businesses are entrusted with bringing an entire community together, but that was the mission assigned to Heritage Malta upon its inception 20 years ago. A mission that Heritage Malta has accomplished successfully since then, building a new narrative that has the power to instil pride in the Maltese Islands and to create fresh excitement and fascination with our rich cultural and natural history.
The Minister added that our heritage is made up of every single thing that makes us Maltese. This step forward by Heritage Malta therefore fits perfectly within the ambitious cultural political vision that the Government has set for itself for the coming years.
As part of the celebrations for the launch of Heritage Malta's new brand identity, other events will be held throughout June, details of which will be provided in the next few days. These will include a special Open Day at various Heritage Malta sites and museums in Valletta, as well as an exhibition of artefacts spread across museums and sites in Malta and Gozo. Through this exhibition, using recycled material for the setup, the agency will also be strengthening its commitment towards environmental sustainability.