[WATCH] Fans give Ira Losco warm welcome back
Malta's representative at the Eurovision Song Contest given warm welcome by fans gathered at the Malta International Airport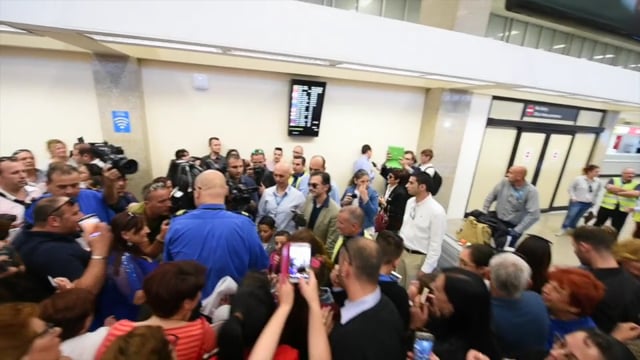 Ira Losco given warm welcome by fans • Video by Ray Attard
Scores of Maltese fans turned the arrivals lounge at the Malta International Airport into a welcome-home party for Ira Losco as Malta's representative at the Eurovision Song Contest returned from Stockholm this afternoon.
Flanked by PBS CEO Anton Attard and her partner Sean Gravina, Losco greeted fans and well-wishers who greeted her and congratulated her following her performance on Saturday night at the Eurovision Song Contest held in Stockholm, Sweden.
On Saturday, Losco delivered a stunning performance of 'Walk on Water', and obtained 137 points from the jury vote, ranking fourth overall, but faltered in the televote, garnering just 16 points and falling to 12th place with a total of 153 points.
Speaking to the press moments after her arrival at 5pm, Losco said this year's contest was one of the strongest in recent years and has become an extremely cut-throat competition. Nonetheless, she held that the song performed well in the jury vote, and had only faltered in the tele-voting.
"The jury appreciated the song and all the work that the team has put in. In the semi-final, the jury placed Malta's song first, while in yesterday's final, it ranked fourth," she said.
Losco also encouraged aspiring Maltese singers to follow in her footsteps and represent Malta at the Eurovision song contest as the competition was enjoying higher ratings and becoming "better and more beautiful."
"It is always nice to be given such a warm welcome. During my journey at the Eurovision, the fans' constant support instilled in me greater confidence and serenity," she said.
The mother-to-be also spoke briefly about her pregnancy, saying it was a unique experience as she had shared the stage with her son.
"The amount of work that goes into the Eurovision is unimaginable; but this year, I had someone who was with me through all of it ... The first time I went to the Eurovision, I was a child myself, while now, I have to take care of a child," she said. Asked about her next career move, the singer said she would soon be recording her new album.
Surrounded by scores of fans, Losco carved her way through the arrivals lounge before stopping to sign autographs and take countless selfies with her fans. Fans who gathered at the airport also held balloons and placards to welcome the singer, while moments before Losco's arrival, adults and children alike sang to the lyrics of 'Walk on Water'.
Losco was also welcomed by Minister Owen Bonnici.
This was Ira Losco's second attempt at the Eurovision Song Contest after securing a second place finish with 'Seventh Wonder' in Tallinn in 2002, Malta's joint-best result in the competition.
Malta's entry at the Eurovision finished third in Tuesday's semi-final with a total of 209 points behind competition favourites Russia and Armenia, who went on to finish third and seventh respectively. Armenia, Azerbaijan and Australia were the only three countries that gave Losco any points during the final tele-voting process on Saturday.