[WATCH] Playing Jesus: 'Being Christ is more than growing your beard and hair'
Every Good Friday, the World War II underground shelter in Qormi, a few steps away from St George's church, hosts an adaptation of Christ's passion. Marianna Calleja catches up with Mario Aquilina and asks him what it means to play Jesus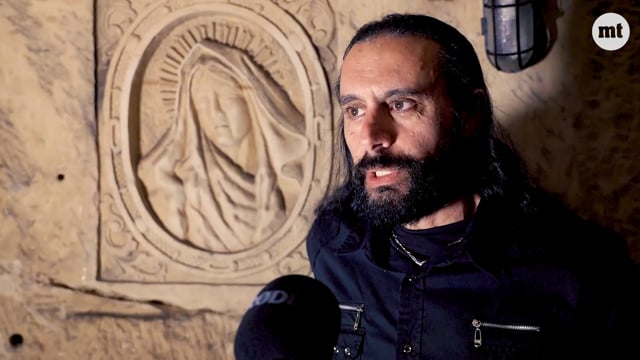 Mario Aquilina takes us down the narrow winding stairs of the World War II shelter in Qormi, where he will play Jesus Christ.
After a three-year hiatus because of the pandemic, the shelter will transform once again into a stage to host an adaptation of Christ's passion
Mario has been playing Christ for almost 10 years, he tells me as we enter the cold first hall of the underground network.
"Being Christ is more than simply growing your hair and beard," he says.
For him, the role is much more than just another act. "I am not a saint but I am religious. I can see an atheist acting the part like it's just another role in his profession but playing Christ for me requires a lot of thinking."
Mario says that as an actor, he tries to avoid stereotyping Christ. Indeed, people have become accustomed to the light-haired, light-eyed Christ who bravely and somewhat handsomely stands tall accepting what comes his way.
He says many people wouldn't be able to list on their fingers three more instances in which Christ was as human as we are, apart from the heartfelt moment in Gethsemane or the yelling with the merchants profiteering off pious pilgrims.
But 4teenth's production challenges this narrative and presents the audience with a fresh perspective on a human Jesus.
It is a challenge Mario extensively prepares for; it sometimes leaves him restless.
"The emotions do get to me sometimes. Even during the play… I find myself fighting off a struggle by realising how much worse Christ must have felt and went through. Even afterwards I remain confused."
The actor explains how the production team organised a workshop this year, to prepare the actors physically for certain scenes.
"We did a lot of physical movement, all to prepare us for any scenarios we can face through the whole play," he says as we move through the shelter.
One must understand that a play like this, with such an intimate setting, offers new obstacles other productions probably will not have to deal with.
The actors must keep going and adjust to whatever curveball is thrown at them, whether it is a child weeping in what is supposed to be Virgin Mary's entry way or a man who is lost in thought leaning against the wall Judas is supposed to hang on.
Pioneered initially in 2014, by the ingenious David George Camilleri, the play has been running ever since. While some faces have changed, others like Mario's stuck around.
Mario tells MaltaToday how David had approached him after working with him at another place and since accepting the invitation he never looked back.
"I kind of look forward to it actually," Mario chuckles.
Throughout the course of his career as a playwright, David was able to transform Jesus into a hero or a common man, a carer or an outlaw. He spent five years writing the Passion at the Shelter before being injured in a horrific accident in 2019.
David, described by his friends as the true warrior of the 4teenth Productions, managed to survive the accident. But after that, he was unable to continue with the plays, handing over to Josue Formosa.
Keeping up with the tradition, Josue this year unmasks Jesus Christ as a thinker with his play "Għaliex? (Why?)"
Mario says that like in previous years, this theatre walkthrough production will take the audience on a 30-minute journey, rather than having them standing still at one corner.
"They will walk with me. I will acknowledge their presence and address my thoughts to them. They will be the crowd, which saw Christ hanged on a cross," he says.