[WATCH] Going underground: Inside Valletta's hidden cisterns and vaults
Normally inaccessible hidden secrets of Valletta are now open to the public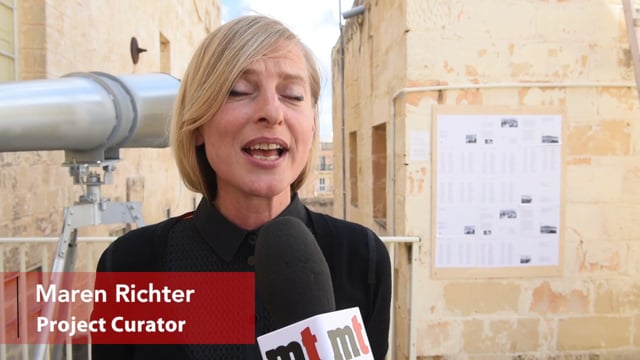 Valletta's hidden treasures
A cavernous, vaulted chamber, some 3 storeys high, lying beneath the law courts is just one of the eye-opening spaces open to the public as part of a new exhibition of art in Valletta.
The exhibition, named 'The Island is What the Sea Surrounds,' will officially open for the general public on Sunday, offering an opportunity to experience the City's normally sealed-off locations, as part of the V18 programme.
"Who By Fire" is a sound installation in Valletta's labyrinthine underground spaces, a work by Turner Prize winner Susan Philipsz intended to address memories and loss of local cultures over time. Visitors must descend through the narrowest of rock-hewn spiral staircases into the chamber - a giant water reservoir from the time of the Knights – where they will be met with a haunting musical vocal track and spectacular visuals.
Across the city at the old fish market, the Pixkerija, in Barriera Wharf is Ibrahim Mahama's large scale work "A Straight Line Throught the Carcass of History." Mahama, who describes himself as being "drawn to spaces on the verge of collapse, of oblivion" says when he first saw the space, "it was love at first sight." The installation itself, dominated by a giant chicken wire mesh dividing wall is intended to highlight the working history of the old fish market, its uncertain future and the Mediterranean Sea as a symbol of trading between Africa and Europe.
More artistic installations by ten local and foreign artists are being exhibited at the St. Elmo examination centre, which are intended to provide alternative channels to "delve deeper into the idea of islandness," in the words of the exhibition's curator, Maren Richter. "The exhibits attempt to contextualise the Mediterranean region in historic, socio economic and current dynamic perspective," she said.
The visual arts exhibition opens on March 25th and will remain open to the public till July 1st. Tickets cost €5 and can be purchased from [email protected]
"I hope this project encourages other authorities, including Heritage Malta, to open more underground spaces in Valletta - this would ensure the biggest success of Valletta 2018 is not only what happens this year, but its legacy in the coming years," Micallef said.