[WATCH] HSBC CEO says loan down payment doubling was a 'genuine mistake'
HSBC CEO insists the reversal of the down payment doubling was not a reaction to backlash, says no changes have been made to the bank's home loan lending policy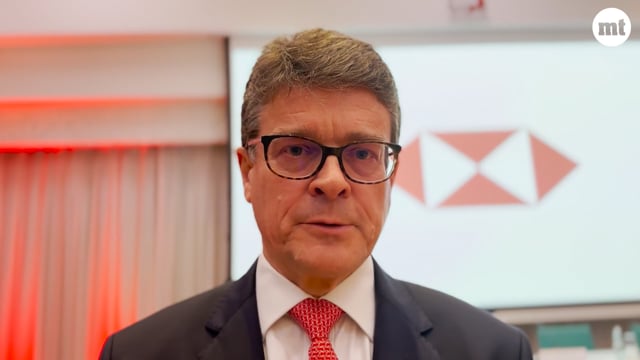 HSBC Malta's accidental doubling of the minimum down payment on home loans was a "genuine mistake" and not a reaction to backlash, the bank's CEO said on Tuesday.
Last week, it appeared that HSBC Malta quietly doubled the down payment requirement on home loans from 10% to 20% and increased the interest rate to 3.1%.
But speaking to MaltaToday on Tuesday, CEO Simon Vaughan Johnson said that this was a genuine mistake when updating the website. "It was a genuine error that we needed to correct – which we did," Johnson said.
Indeed, the figure on the website was updated on the same day after the bank issued a statement saying that it will continue to offer home loans in line with its proposition up to a maximum of 90% loan-to-value.
Shortly after the statement was issued, the HSBC website still showed that the Classic Home Loan product would be subject to a maximum loan-to-value of 80%, meaning the customer would have to put down a 20% down payment. Later in the evening, this was changed to 90%.
Johnson also added that there have been no specific changes to the bank's lending policies and requirements.
HSBC Malta's position in Malta
Despite HSBC pulling out from non-Asian markets like France and Canada, Johnson said that he still sees opportunity for safe growth in Malta.
He remarked that the bank is renovating its Qormi headquarters, which represents the largest property investment of the bank's kind in Europe.
He also said that there are no planned branch closures in Malta for the time being, with the existing 12 branches to remain in operation.
Johnson also touched on the possible removal of energy subsidies, saying that this would change the risk landscape in Malta. "Subsidies have helped support the cost of energy for all of us, with our cars and various other usages. It has been a huge support to the local community. We then need to analyse the impacts there may be for removing or reducing the subsidies."
He did not elaborate on the specific impacts that a removal of subsidies would entail, remarking that the effect would vary greatly between customers and sectors. "But once that is removed, the cost of fuel will go up for all of us."
Overall, the outlook for the local economy is positive. "But we've seen a number of shocks in the past year and past three years of COVID-19. We have to prepare for them as much as we can, but it's very difficult when you're not sure where they're coming from."