Malta's far-right festers in the wounds of society's growing inequality: we must fight with peace, unity and tolerance
The indignation of the Prime Minister was necessary, but he also presides over the economic formula that has now crafted a competition that encourages division, a sense that we must fight to survive, especially those denigrated as claimants of our national 'generosity'
Was the senseless murder of Lassana Cisse Souleymane – gunned down while walking back home in Hal Far – a criminal act long destined to take place in safe, safe, but racist, Malta?
In the minds of many journalists, there is no argument that right-wing extremism has long been given a new lease of life on the unfiltered channels of social media. With the rise of the ultra-nationalist right in so many parts of Europe, came a new validation for Islamophobia, tribal nationalism, anti-feminism and anti-political correctness... right up to the free, unquestioned imparting of Nazi apologism by Norman Lowell on Maltese television.
All are dangerous and disgusting, with their whiffs of prejudice simply adding more to the collective stench of intolerance, which fed the dangerous, ideological climate of hate that created the violence of Hal Far.
The speech of Prime Minister Joseph Muscat yesterday, late in coming, but now necessary, and essential if we are to build a new doctrine of peace in Malta, was an uncompromising apology.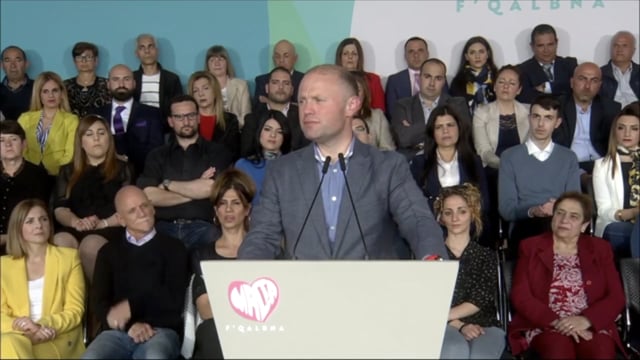 Joseph Muscat angered by racial murder asks country to embrace multiculturalism
But the far right in Malta has not just been capitalising on the problems of those who live cheek by jowl with the poorest of migrants in Malta, who now form a crucial part of our workforce, from Norway down to Niger. The far right has been exploiting the dark corners where Malta's economic growth peters out, where the lower-income groups are priced out of property, where disparate wage growth has created a larger gulf between highly-skilled, mainly white European migrants and lower-skilled, African and Asian migrants, with the Maltese now also seeing a fall in income, and which leaves only the munificence of social benefits, generous though they may be, to rub out those sharp corners.
Typically, the Nationalist Party – once architects of the European dream – fell in line in a bid to capitalise on pockets of discontent at migrants. But in a scattergun approach, they aimed their guns not only at down-and-out migrants living in five-a-room apartments, a source of nuisance for Hamrun and Marsa residents where the Moviment Patriotti is fielding its local council candidates; but also at businesses owned by migrants from Africa.
That tone soon became an agenda, given life not just by party exponents who have been hearing out the problems of Marsin and Hamrunizi, but also the owners of capital, like PN deputy leader and hotelier Robert Arrigo, an employer of foreign workers. Never before has this combination of corporate power and violent rage against foreigners come together so artlessly in a Maltese election.
But these were also foreseeable events. Raisa Galea had called it the PN's anticipated reaction to Labour's neoliberalism:
"Unless confronted with constructive criticism and socially beneficial policies, Delia might well succeed at making the Nationalist Party 'great again' as he has already done with making it live up to its name... his rhetoric is anything but random. It is a tried and tested way to build on the existing social anxieties, including xenophobia, which were nourished by the policies of the current PL government. A feeling that 'the country no longer belongs to them' is being shared by a growing number of Maltese. The country is becoming truly unrecognisable, thanks to the efforts of the construction lobby which craves knocking down every Maltese architectural jewel to clear a spot for yet another faceless apartment block, and eyes every ODZ field as a potential host of yet another petrol station."
2017: Butlers to the cosmopolites? We'll pay the price
Indeed, Joseph Muscat's troubling way of portraying foreign workers has also contributed to this view: foreigners are good to do Malta's dirty work, pay the sky-high rents, pick up the rubbish and serve at our tables. But that has always been a view that comes with a price: that it is us Maltese who are failing to build our own narrative of peace and authentic community living, by using our racism to punish poor workers, whose limited skill-set is also necessary to carry out a host of jobs this new economy needs; and then only caring about charging the highly-skilled Europeans high rents for the two-bedroom Swieqi apartment and hustling a dime with equally-overpriced food outlets:
"In nurturing this role as a xenophobic, chauvinist rent-seeking nation, it has now become too easy to lose whatever national self-esteem we once had," I wrote in 2017. "That perhaps, instead of just cashing in, we might want to welcome these people in ways other than simply catering to their expat needs – that they too might understand how we live, and that buying into Maltese-ness (if we could muster the pride to believe in this) can help us live better."
But we did not.
The European elections
Now, Imperium Europa's Nazi apologist Norman Lowell could emerge as the dark horse in Saturday's European election with the latest MaltaToday survey giving him more support than other third party candidates.
As MaltaToday's Kurt Sansone writes, the survey suggests that Lowell, who will be the sole candidate of his party, Imperium Europa, could poll between 1.1% and 1.3%.
It is not uncommon for people to shy away from saying they will vote for a far-right candidate like Lowell – a phenomenon that is present in many western countries – which means that his support could be higher.
In the European election held five years ago, Lowell polled 2.7%, or 6,761 votes.
According to the MaltaToday survey released today, Lowell primarily draws his support from the Northern region and the South-Eastern region. In the Northern region, which includes St Paul's Bay – a veritable melting pot of foreign nationals and fertile ground for Lowell's anti-immigrant rhetoric – he polled 3.2%. In the South-Eastern region, which includes Birżebbuġa and the Hal Far Open Centre, Lowell polled 3%.
His voters are predominantly male and can range between 18 and 65. According to the survey, these voted for the Labour Party in the 2017 election and the Maltese Patriots Movement.
A problem for the Maltese has been the liberty with which Lowell and the MPM get to expound their dangerous views on social media. Lowell enjoys basking in the limelight, using every occasion to polish his image, as happened on his recent TVM communiques, or to outrage his interviewer and audiences.
When the 120-year-old Floriana parish arch had been set on fire, Lowell said on Facebook that a "half-Tunisian, half-Maltese" man had been seen running from the site. But on Friday, the police filed charges against a 33-year-old taxi driver from Valletta, Bjorn Grima. He was apprehended after police examined footage from over 50 CCTV cameras. Norman Lowell, who has claimed the genocide of six million Jews at the hands of the Nazis was a "hoax", used the occasion of the Floriana arson to allege the attack was carried out by a foreign national.
The Facebook post, in which he include an image of the burning ark next to that of the Notre Dame spire and roof engulfed in flames, has since been removed. Then on 2 May, he further suggested a link between the vandalising of Catholic churches worldwide, with the Floriana arson: "875 Catholic churches vandalised in 2018. Was Floriana the start of a horrible story yet to unfold? Little do the priests and clergy realise, that we of Imperium Europa are at the forefront to protect our identity, culture and religion," Lowell said.
It is that simple for Lowell to communicate conspiracies and ideas that impart hate towards foreigners.
A national anti-fascist culture
MaltaToday's James Debono has observed that there are more reflections to be made on the Souleymane murder, ones that not just treat the more multicultural localities in Malta in a vacuum.
"There are reflections to be made on what kind of society Malta is becoming. I am sensing a malaise which characterizes unequal societies experiencing bursts of uneven growth, an intersection between racism, individualism and gangsterism – the bro and paranza culture based on fast cars, guns and consumerism – a failure to set a moral compass for a secular society, a disintegration of community and its landmarks, a failure to anchor change in a culture of solidarity, the emphasis on aspiration and making people rich, a lack of any pride in a national anti-fascist culture...
"This process has been in place for decades (and has brought with it welcome changes too) but on some aspects there has been an acceleration. We need to wake up. The first step is to beat the far right and ensure its humiliation in next week's elections... but if we do not reflect on a wider context of Maltese capitalism, I fear that the Hydra will re-emerge from the many fractures in our society."
That takes us back to Joseph Muscat's indignation and apology on Saturday evening.
Can Muscat use his charisma and power of rhetoric to foster a doctrine inside his own party and the nation, that calls for the respect of migrants, asylum seekers, but also critics and journalists?
For fascisms can be many, not just those that find their voice in the hate peddled at Africans and cheap labour.
"It's paramount to understand that the xenophobic, paleo-conservative cancer draws its energy and inspiration from the consequences of the Labour Party's neoliberalism," says Raisa Galea, the editor of the left-wing blog Isles Of The Left. "Xenophobia and nationalism creep into people's worst insecurities of the future. They find a fertile ground in anxieties of a stressful and over-competitive lifestyle."
There's a lot of work to be done, but it also starts with those who lead the country, and who preside over the economic formula that has crafted the kind of competition that encourages division, a sense that we must fight to survive especially those with whom we have no affinity, or who have been denigrated as claimants of benefits or our national 'generosity'.
If Malta becomes an unjust and unfair society where, take the example of our land grabs, the rich gobble up what belongs to the public or even destroys the memory of our authentic landscape, well this inequality of wealth, opportunity and influence will spill over into the rest of the social fabric. We will poison the well of our social pact, a pact built on trust.
When this inequality is married to the kind of inflammatory language used by Lowell and the Patriots, it turns into a cocktail that fuels aggression, and violence.
Our response has to be peace, unity, embracing diversity, and tolerance: that includes committing Joseph Muscat not just to his speech in Xewkija, but also to challenge his economic model and challenge the inequality that it creates.