[WATCH] Malta's unlikely eco-warriors
Dairy farmers, a dying breed in their own right, are saving our natural landscapes and keeping our land green and clean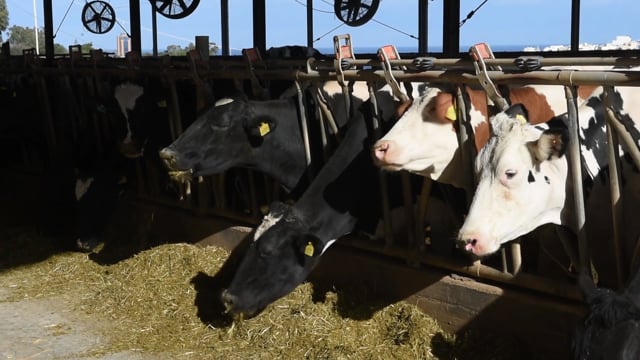 Contrary to popular belief, dairy farmers might be the guardians we didn't know we needed.
Farmers are essential to the environment, as they keep agricultural land active and protect against overdevelopment.
"The perception out there is that the farmer does harm to the environment," Clint Camilleri, Malta's parliamentary secretary for agriculture told MaltaToday. "This idea also exists within the European Commission."
"But we need to keep in mind that if it weren't for the farmer, the majority of the Maltese countryside would be in a state of abandon. Farming preserves the environment, including rubble walls, and keeps the countryside active which also has visual value."
Brian Vella, chairman at Malta Dairy Products Ltd and the dairy producers cooperative, explained the phenomenon further.
"If it weren't for the dairy industry, there would be significantly more development."
Due to dairy farming, agricultural land remains clean and attractive, with more greenery growing as time goes by. Vella explains that this is particularly evident in winter, while the summer would bring neatly packed bays in the fields – which also looks good.
Since the land currently used by the dairy sector is not sustainable for vegetable farming or any type of agriculture, Vella fears that if it weren't for this sector, the land would be vulnerable to overdevelopment. He goes on to tell us how his very own farm in San Gwann served as a direct barrier to a construction project, as he says the area was planned to be built into villas. But due to the farm being in the way, the plans could not carry on.
You would be hard pressed to find someone who is a bigger green warrior than a farmer, as his livelihood depends on the natural environment
When asked about the issue of slurry produced by the cow industry, Vella said that it is a legitimate concern which ought to be tackled, but that the advantages of the sector on the natural environment outweigh problems caused by the waste.
Read also: Farmers to get €600,000 to deal with growing manure and slurry problem
"You would be hard pressed to find someone who is a bigger green warrior than a farmer, as his livelihood depends on the natural environment," Vella said.
Dairy farming accounts for 5,290 hectares of land, and around 59% of agricultural land is used only for this sector.
"The dairy industry keeps agriculture alive since other sectors have declined," Vella explained. The reason for this, he suggests, is that other sectors are not as organised as the dairy sector. The dairy industry, he explains, works vertically, and Maltese milk is handled by the industry from farmer to consumer – with no middleman.
Camilleri elaborates on this, describing the milk industry as a role model for other industries.
"It is built on the farmer himself. The cooperative is a majority shareholder of the dairy company, so there is verticalisation of the sector," he said, explaining that the cooperative handles the production of milk from start to finish.
The result is that although the raw milk would cost the Maltese farmer significantly more than it costs other European farmers, the finished product is actually cheaper. Care is taken to avoid mark-ups and additional charges, and the product remains competitive, Camilleri said.
The junior minister went on to explain that the Government is a 30% shareholder in the Malta Dairy Products company, and is always finding ways of supporting the dairy sector through EU negotiations and the new Common Agricultural Policy. A substantial amount of EU funds in the form of direct payments are given to farmers in this sector in order to continue to support it, he said.
But the success of the dairy industry is not without its challenges. A serious lack of interest from young people to work in the sector is a growing concern for Vella, who says that internal policies need to be put into place to encourage new farmers.
Although farms have been modernised with increased efficiency and increased quality to exceed EU expectations, this type of decrease is not a sustainable one, and raises concerns about where the industry would be ten years from now.
"Agriculture is not a priority for the Government," Vella said, "and perhaps it shouldn't be. But its importance should not be forgotten since it is one of the pillars on which the natural environment is kept."
Surely enough, Camilleri said that new agricultural campaigns and policies are imminent and measures to support young farmers financially and assist start-ups are underway.
But if numbers are anything to go by, this will be no easy feat.
Today, dairy farmers amount to a mere 95, compared to 200 in 1997 – showing that the number more than halved within two decades.
Current practices show this trend is ongoing and the Government – and the industry – look hard-pressed to be able to reverse it.
But farmers are a hardy lot, and if anyone can weather a storm – it's them. After all, who else is in a position to take up their eco-role, were they to fail?