[WATCH] BirdLife Malta toying with second spring hunting referendum
Environment NGO BirdLife Malta is being pressured to consider another referendum as they say the government is ignoring scientific data and advice from its own institutions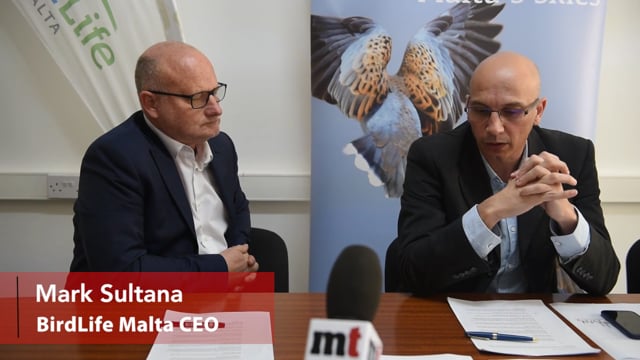 BirdLife Malta toying with second spring hunting referendum
BirdLife Malta has said it was "under pressure" by its own lobby to consider a second referendum on spring hunting in light of the recent decision by the Ornis Committee to recommend moving the spring hunting season forward by two weeks.
The government is "bending over backward" to accommodate the hunting lobby, as the decision by Ornis coincides with the peak migration of turtle dove - a protected species.
The hunting advisory board voted on Tuesday to recommend a spring hunting season between 5 April and 25 April, whereas last year's season opened on 25 March and closed on 14 April.
Although the decision is yet to be taken by the Environment Minister, BirdLife officials said that the decision will "undoubtedly" be approved since political considerations as prioritised over scientific facts.
The government is ignoring advice by the Environment & Resources Authority (ERA), which provided scientific data to show that moving the dates would affect turtle dove migration, they added.
"Despite the ERA being a government insitution – the government is completely ignoring it," Sultana said. "Moreover, it is ignoring BirdLife, scientific facts, and taking an entirely political stance."
"It is unfair for the hunters' lobby to pressure government – which was initially in favour of protecting birds," BirdLife CEO Mark Sultana said. "Hunters did so in order to enable the illegal hunting of turtle doves. But the government disregards what NGOs say, and only care about hunters."
"A second referendum is more likely to bring a different result as certain mistakes will be avoided," BirdLife Secretary General Saviour Balzan said, specifying that the 'no' vote for a positive result had cost the pro-environment lobby a number of votes. Moreover, he said that the NGO will be more cautious of the entire political scene, and the fact that the people do not currently have any form of leadership in the country which speaks for the environment.
"The government only cares about the hunter's lobby, who threaten with their vote," Balzan said. "Despite certain improvements in the country, in the area of environment we are still stuck in Medieval times, where the one holding the firearm holds the power."