[WATCH] Scicluna dismisses German regional minister's attack on Malta as 'political stunt'
Edward Scicluna completely dismissed claims by a German minister as a political stunt by a politician who was facing the prospect of losing an election this Sunday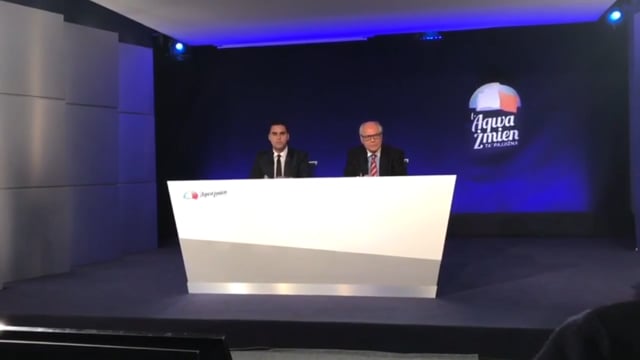 Scicluna dismisses German regional ministers claims
Claims made by a German regional finance minister - who accused Malta of being Europe's Panama and of sheltering 70,000 offshore companies - were wrong and could be easily dismissed as a last-grasp attempt to gain votes in an election the German politician is contesting this Sunday and in which he is trailing behind his opponents, finance minister Edward Scicluna said this afternoon.
"This regional minister thought to use this in a political attack against Angela Merkel, has paid for data stolen from Switzerland and is known in international circles to ignore protocol," Scicluna said.
Walter Borjan made his allegations after journalists reported that tax authorities in the city of Wuppertal were provided with the data from an anonymous source. It was claimed that there are multiple German companies and up to 2000 German taxpayers currently registered in Malta.
Borjan's ministry said that "the data reveals how corporations and private persons on the Mediterranean island use company braids to bypass tax in Germany in a big way" and that "this is partially done with legal tricks, but often also by means of offshore companies, which serve exclusively as tax evasion constructions."
But Scicluna today lambasted Borjan's claims, saying this was - in fact - not a leak of secret documents at all since all data was already available on a website.
As to the accusation of Malta harbouring 70,000 offshore companies, the finance minister said there were around 70,000 companies in all registered in Malta.
"There are currently around 20,000 companies in liquidation," he said. "The rest, some 50,000 companies, are all the companies registered in Malta."
Scicluna also pointed out that Malta had no offshore company register or setup and that such claims were often levied against smaller EU member states as a bullying tactic by a number of journalists and politicians across Europe.
"This has often happened to us with regards to our tax system, where we are accused of being a tax haven," the minister said.
Scicluna, who was addressing a press conference with parliamentary secretary Ian Borg, ackonwledged that statements like that of the German regional minister, as well as the current political atmosphere, coupled with local and media reports, were proving harmful to Malta and its reputation.
The current uncertainty on the political stage could also have played a part in the decision by British insurance giant Hiscox to choose Luxembourg over Malta to relocate to post-Brexit, he said.
"Many issues come into play, such as the workforce, pay scales and accessibility," Scicluna said. "But this political atmosphere, as well as statements like those of Borjan, are harming Malta, no doubt."
He went on to explain that the European Commission's economic outlook for Malta confirmed the solid growth in the economy and forecast a further strengthening of the country's Gross Domestic Product.
He said that the Commission had also praised the extraordinary high growth of investment in Malta, which remained well above average even despite a slight downturn in 2016.
"The success now confirmed by the Commission was brought about through the government's commitment to make work pay, to complement the many initiatives introduced in this legislature," he said.
Scicluna said it was obvious the Opposition had failed to understand the reason behind the government's economic success because it was evident in the proposal being put forward by the Nationalist Party that, if successful, they would depart completely from the current system.
Borg said that the Opposition was being irresponsible in presenting proposals and saying an explanation would be forthcoming within 100 days of being elected to the government.
"We are seeing the same trend, from the proposed grant to the 100 couples who will settle in Gozo, to offering free childcare for all and tax-free pensions across the board," he said.
Borg wondered who was advising the Opposition leader to put forward such proposals without double-checking the economic cost beforehand.