[WATCH] Joseph Muscat targets switchers: 'You trusted me in 2013, trust me again'
To the electorate who voted PL for the first time in 2013, Joseph Muscat says: 'Then I had enthusiasm and optimism, today I have both and experience'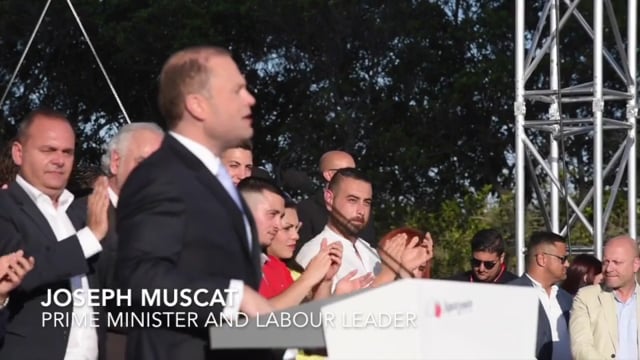 Prime Minister Joseph Muscat targets switchers in mass meeting address
In a passionate speech targeting undecided voters and switchers, Prime Minister and Labour leader Joseph Muscat yesterday urged the electorate to trust him to lead the country for a second term.
"This country has achieved a lot for now to halt everything and turn back the hands of time. We cannot stop halfway. If you voted for me for the first time in 2013, I am giving you back a much better country. Trust me again because I have that same enthusiasm, and now I have the experience," Muscat said.
The Labour leader said Malta's history has always been characterised by a hard-working nation that always sought to improve a nation.
"The country always achieved milestones which others thought to be impossible."
Muscat said that the country had seen a lot of changes in a few years: from a conservative to a progressive country, led by a dynamic team which made Malta "the best in Europe".
"They used to think we were too ambitious and that we would fail in achieving what we promised. But we proved them wrong and you were finally given a government that implements changes. Some might think that this is a one-time cycle and it would be impossible to achieve other successes," he said.
"But I tell these people: the impossible is what leads our ambition. For those who say it's impossible to continue generating this economic growth, I say we will; for those who think it's impossible to further reduce taxes, I say we will; for those who think we won't be able to attract more investment, I say we will."
Rekindling memories of the 2013 electoral campaign, Muscat said that Labour's sense of optimism was undeterred.
He accused the Nationalist Party of, instead of coming up with proposals and offering an alternative leadership, choosing to confuse minds and alienate the people.
"They are trying to scare people with their place of work, because they have nothing to offer."

Muscat said that under a Labour government, the number of companies operating in Malta, work opportunities and investment would continue to increase.
"Our principles are clear: social mobility, social justice and equality."
Muscat pledged that like the government had succeeded with Enemalta's turnaround, the same would happen with Air Malta.
The Labour leader, who on social media was the target of a meme that depicted him as a person with Down's Syndrome, said that the picture did not offend him.
"There is nothing wrong with a person having a disability and I am proud of persons with different abilities," he said. "I am proud of their parents, who will always find me here… we are everyone's movement: the vulnerable, minorities, self-employed, students, youths and pensioners because this is the movement of 'Malta for all'."
The Prime Minister warned against voting for other parties: "Our country's economic credibility will suffer and everything that we achieved together will fail."
Muscat insisted that those who created the problems, "can't solve them".