[WATCH] Former ministers Zammit Lewis, Manuel Mallia return to parliament
Labour's seven seats in the casual election go to: Edward Zammit Lewis, Glenn Bedingfield, Rosianne Cutajar, Manuel Mallia, Clayton Bartolo, Stefan Zrinzo Azzopardi and Etienne Grech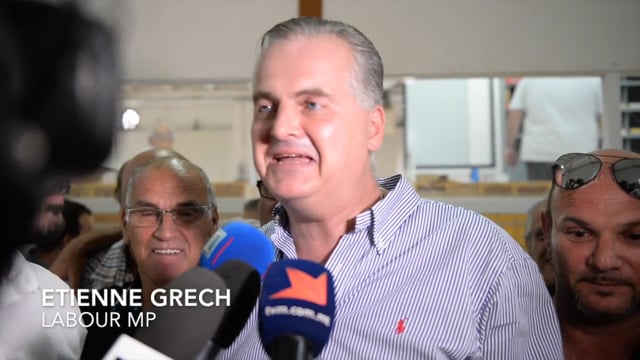 Former ministers Zammit Lewis, Manuel Mallia return to parliament
Counting has ended at the counting hall in Naxxar as seven new MPs were elected to parliament this afternoon. Former ministers Edward Zammit Lewis and Manuel Mallia both secured their parliamentary seat and will be joined by newcomers Rosianne Cutajar, Stefan Zrinzo Azzopardi, Clayton Bartolo and Glenn Bedingfield.
The seven seats which were up for grabs were vacated by candidates who were elected on two districts including, Prime Minister Joseph Muscat, ministers Chris Fearne, Helena Dalli, Edward Scicluna, Evarist Bartolo and Michael Falzon, as well as parliamentary secretary Silvio Schembri.
The decision on which seats would be vacated by the respective candidates was taken by the Labour Party's executive. Each candidate began the day with a zero-vote tally, with votes accumulated by candidates vacating their seats distributed amongst the remaining nominees according to preference.
Zammit Lewis was the first to be elected, securing 2,477 votes on the eighth district. The former tourism minister was followed by OPM communications aide Glenn Bedingfield who was elected on the second district, and Qormi mayor Rosianne Cutajar on the 6th district.
The twelfth district went straight down to the wire with newcomer Clayton Bartolo beating former planning parliamentary secretary Deborah Schembri by just 17 votes.
Former digital economy minister Manuel Mallia beat Gzira mayor Conrad Borg Manche and Nikita Zammit Alamango in the battle for Michael Falzon's seat on the 9th district.
Stefan Zrinzo Azzopardi was elected on the fifth district, beating Carlo Stivala, Rita Sammut, Sebastian Muscat, Edric Micallef, Joe Farrugia, Joseph Cutajar, Mario Calleja, Roderick Cachia and Luciano Busuttil to the seat vacated by Prime Minister Joseph Muscat.
Finally, the competition on the fourth district was by far the longest and most tense, ending in an electoral victory for Etienne Grech. Proceedings on the district were held up for some two hours as three recounts were required to determine which who among Stefan Buontempo and Andy Ellul was to be eliminated in the penultimate round.