[WATCH] Peter Agius says Malta needs to improve on EU direct funding for businesses' sake
PN MEP candidate Peter Agius says that Malta's track record in terms of winning direct EU funds for competitive projects was amongst the lowest in Europe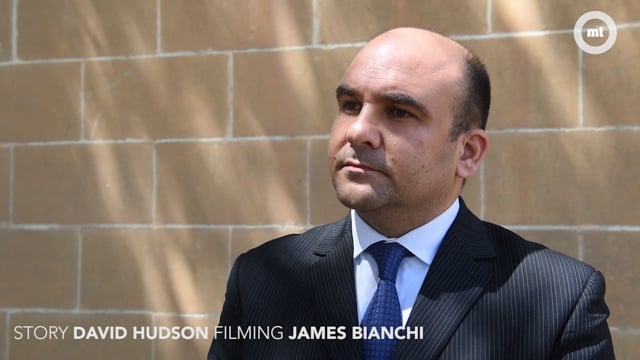 Malta needs to up the game on EU direct funding says Peter Agius
Malta needs to up its game when it comes to direct EU funds, PN MEP candidate Peter Agius said.
He lamented Malta's bad track record when it comes to winning direct funds from the EU, whereby companies and businesses apply directly with the European Commission in Brussels in a competitive setting.
"Countries or regions the size of Malta have won 10 to 15 EU-funded projects while Malta has the lowest rate of participation in funding instruments designed for small and medium-sized enterprises (SMEs), winning a total of five last year," he said.
Agius was speaking at a PN press conference held just outside the Mosta Technopark. He explained how 75% of the EU budget is allocated directly to the ministries of member states. The rest, the 25%, is handed to competitive associations, industries and businesses which the European Commission feels have the best proposals.
"We need to empower Maltese businesses to increase our success rate with these direct funds. We should be able to adapt these funds better to Maltese businesses," Agius said, adding that foreign regions such as the Danube area in Germany had cities joining forces with businesses and universities to submit the best European projects, attracting millions in EU funds.
Agius told MaltaToday that the next EU budget aims to focus more on research, innovation and digitalisation of SMEs and that if Malta is to stand a chance, the country had to start investing in alliances between education, industries and foreign markets.
"Our absorption of funding in research and innovation is also at the bottom of the graph. This creates a vicious cycle which makes it difficult to tap into the new areas of technology, digitalisation and innovating, which will be strong components in the next EU budget, with €9.2 billion earmarked for digitalisation, AI and robotics alone," Agius said.
He lamented that EU tools are sometimes difficult to access due to conditions tailored to foreign scenarios and that this was why MEPs had the duty to speak on behalf of Malta at the European parliamentary committees when the EU budgetary instruments will come up for amendments.
PN spokesperson for EU funds Robert Cutajar and PN spokesperson for SMEs Edin Vassallo were also in attendance at the press conference.
Vassallo said that the government was making a profit from the Individual Investors Program (IIP) and the construction industry, where, he said, 12,000 planning permits were approved in 2018.
Quoting from the Central Bank of Malta's quarterly review published on Tuesday, he said that "confidence has edged down marginally in the industry and retail sector", lamenting how he had met with many businesses in recent years that were far from doing well.