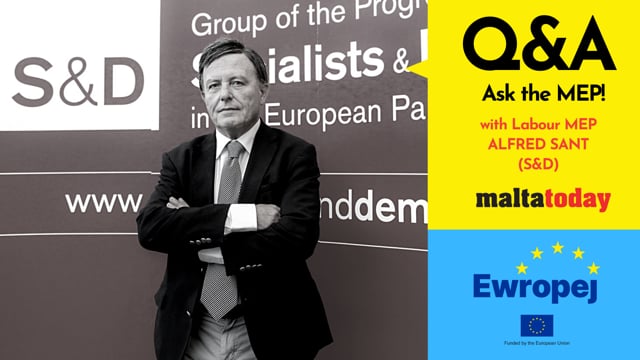 'I would not stand against': Alfred Sant on abortion in Malta
Labour MEP Alfred Sant would not campaign against abortion in Malta if the practice were to be introduced. During a MaltaToday interview, Sant said he would not stand against it if abortion were to be introduced in Malta.
"As the years go by you need to look and listen to people's problems in the society they find themselves a part of. My thoughts continued to change and change. They changed in a sense that there are certain rights of women that need to be respected and recognized in the modern world and in the countries of Europe."
Sant firmly condemned the revocation of abortion access in Poland and Texas. "A right given in a democratic way to women was removed with one fell swoop and I cannot agree with democratically granted rights being removed in a partisan or political manner. I cannot accept that."
A common foreign policy
The idea of a common EU foreign policy is not new, but Sant warned that such a policy would be tricky to implement. Additionally, it would require the consent of all member states in a process called 'deepening'.
"There would have to be more work, more close meetings between member state representatives. More meetings in terms of security and defense as well. We can see that these things are entering into the discourse bit by bit. We have a high representative that concerns themselves with foreign affairs who runs as vice president of the commission meetings between foreign affairs ministers. This sort of process is trying to advance."
For a small, neutral country like Malta, Sant said it is important to distance ourselves from de facto positions on foreign policy that stem from the central European powers.
Parliamentary discussions
Sant is known for abstaining on parliamentary votes that concern the political affairs of external countries.
"As a member of the EP I don't agree that we should go into subjects that which the European Parliament does not hold competencies for."
However, he acknowledged that the parliament cannot limit discussions, and it would be almost impossible to do so.
Sant said that the EP often ends up passing partisan judgments on these kinds of issues. He added that he would prefer if the parliament would refrain from getting involved at times, but admitted that the EP holds power in discussion.
"What is spoken of [in the EP] echoes around the globe, local journalists from wherever is being spoken about pick up what we say, and this has some effect."
Management roadblocks
Sant previously criticised Ursula von der Leyen State of the Union address, where he pointed out growing management issues and failure to meaningfully progress on a number of issues such as immigration.
He emphasised that the EU is not a federal structure like the USA and therefore cannot strike rapidly in a uniform manner when issues arise. This leads to the roadblocks.
Sant suggested that, unless s fundamental paradigm shift occurs, the EU is not in a position to solve a lot of its problems, at least not directly.
Instead, he advocated for "cooperation and exchange of ideas between member states, because there is no federal structure to come up with a federal solution […] When problems arise and you have 27 member states, all with their own voice and national interests, roadblocks form. It appears to me that the Commission is not adequately resolving them. It may not be their fault, but the problems remain unresolved."
Hacking and compter fraud 'a growing worldwide phenomenon'
Sant warned that the hacking and computer fraud situation is a growing worldwide phenomenon. In fact, one of the proposals currently in front of the Economic and Financial Affairs Committee (ECOFIN) concerns the security of transactions with computer systems.
"This is a subject of great importance in view of the already present and increasing importance of information technology systems and the data they hold in our modern world […] There's been a big increase in thefts and fraud, like what happened to BOV recently."
However, protecting European finance involves technical, financial and political effort. Sant said care will be taken with these new regulations to make sure that the measures do not "break the backs" of smaller banking firms.
"One begins to see that if you have even one weak link in the security chain it could easily put the whole system at risk."
Sant said it was crucial to account for all the variety in procedures across the 27 member states. "This is because a regulation enters into force and becomes legally binding, unlike a directive which outlines the objective and leaves legislation up to the member states to do as they see fit therefore in this case ensuring compatibility is key."
This article is part of a content series called Ewropej. This is a multi-newsroom initiative part-funded by the European Parliament to bring the work of the EP closer to the citizens of Malta and keep them informed about matters that affect their daily lives. This article reflects only the author's view. The European Parliament is not responsible for any use that may be made of the information it contains.