[WATCH] Joseph Muscat, former Malta PM, interrogated by police
Former Malta prime minister Joseph Muscat has been questioned by police in connection with claims made by Caruana Galizia murder suspect Yorgen Fenech back in November • 'Police clarified that I am not under investigation,' Muscat says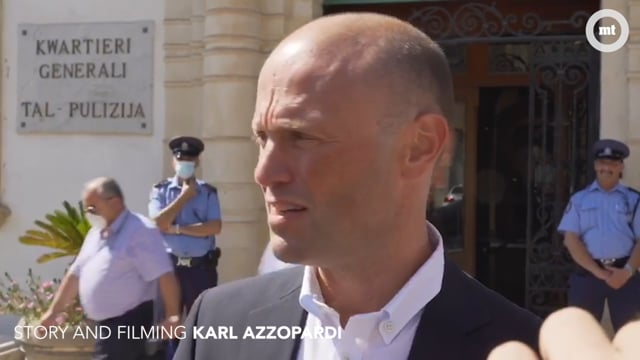 Joseph Muscat leaves police depot after questioning
Former prime minister Joseph Muscat has been questioned by the police investigating the assassination of journalist Daphne Caruana Galizia over alleged conversations he had with Yorgen Fenech.
Fenech told investigators in November 2019 that Muscat had asked him if his chief of staff Keith Schembri had featured in recordings secretly taken by murder middleman Melvin Theuma.
The Tumas magnate, accused of being the mastermind in the assassination of the journalist, claims he assured the then prime minister that he was doing his best to protect Schembri.
Muscat had denied the claims made by Fenech when they were first reported in the media several months back.
Exiting from police headquarters after almost two hours, Muscat said the police sought clarifications over the claims made by Fenech. He was accompanied by his lawyer, Pawlu Lia.
Muscat would not be drawn into why the police called on him today and not back in November when Fenech is understood to have made the statements.
"That is something you have to ask the police. I made the point that journalists had asked me about the claims long before the police asked me about them... the police clarified that I am not under investigation," Muscat said.
Asked whether he was still in contact with his former chief of staff Keith Schembri, who allegedly passed on sensitive information about the murder investigation to Fenech, Muscat said he was in contact with everybody but was not in regular contact with anyone.
Fenech had claimed that Muscat discussed Theuma with him twice in early 2019, once at the former prime minister's birthday party at Girgenti and on another occasion when he was summoned to a meeting with Muscat and Schembri at Auberge de Castille.
Theuma became State's evidence in exchange for testimony to implicate Fenech as the person who ordered and financed the October 2017 car bombing that killed Caruana Galizia.