Central Link: High speed threat known since March 2022
Despite 'speed surveys' carried out by Transport Malta between 2021 and 2022, which found that drivers were exceeding the speed limit along the Central Link bypass, no immediate action had been taken to install road safety measures. Transport Malta had observed drivers reaching speeds of up to 157km/h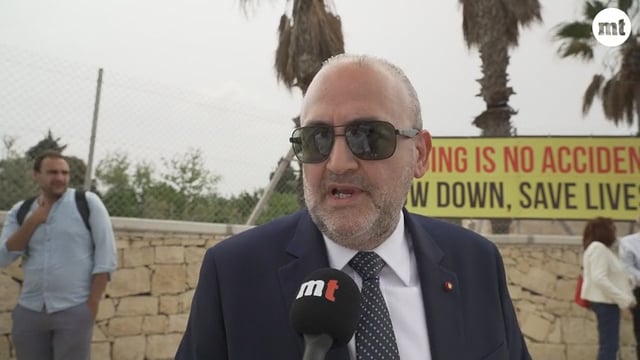 Attard Mayor Stefan Cordina criticized the bureaucratic process faced by his local council in its appeal to have road security features installed along the Central Link bypass.
Speaking to the press a few days after a fatal traffic accident on the same road, Cordina detailed the long process of communication between the local council and Transport Malta. He explained how concerns were raised by the council as early as November 8 of 2021.
On November 16 of the same year, the council had recieved a reply from the agency, stating that 'speed surveys' were being conducted in the area. Four months later, on March 17 of 2022, the surveys were finished and the results were out.
The Mayor stated that on both sides of the road on the Central Link bypass, drivers were driving as fast as 157km/hr on the southward-bound lane, while the maximum speed noticed on the northward lane was 142km/hr. The average speed on both sides of the bypass was 72km/hr.
To the surprise of the local council, no immediate action was taken to address the speeding in the area. The council had then submitted further reminders and applied to have speed cameras installed.
Cordina stated that after the recent fatal traffic accident, Transport Malta CEO Jonathan Borg contacted him on Wednesday and requested a meeting for the following day.
The Mayor said that Borg showed great interest in what he had to say and gave him his word that action will be taken to address the council's concerns, to which, Cordina expressed his gratitude. No timeframe has yet been given for the installation of said cameras and other safety features.
During the meeting, it was explained that Transport Malta alone is not responsible for the installation of speed cameras, as other agencies are involved in the process. The Attard Mayor appealed to the authorities to remove this red tape as soon as possible.
Speaking to MaltaToday, Cordina stated that the authorities should take the necessary precautions beforehand so that fatal accidents are avoided.
Transport Malta statement
A few minutes before the local council's press conference, Transport Malta released a statement announcing "the implementation of comprehensive measures to mitigate risks and enhance the overall safety of the road network."
Transport Malta explained that the Central Link project and other new roads have no historical data on traffic collisions, the agency "adheres to a distinct methodological approach." This means that the Central Link project, which was opened in January of last year, is still undergoing a Road Safety Audit (RSA).
After an extensive site inspection of the area, the RSA team will recommend appropriate measures, "which may include the introduction of average speed cameras, a subject on which technical and legal discussions have been held with specialists in the field over the past months."
Transport Malta stated that without such studies, "one risks basing decisions on incomplete information…"