[WATCH] Police, state's legal arm have one week to take action against Vitals deal enablers
Judicial protest filed by Opposition leader Bernard Grech and Nationalist MP Adrian Delia give the police commissioner, attorney general and state adovacate one week to take action against those involved in Vitals deal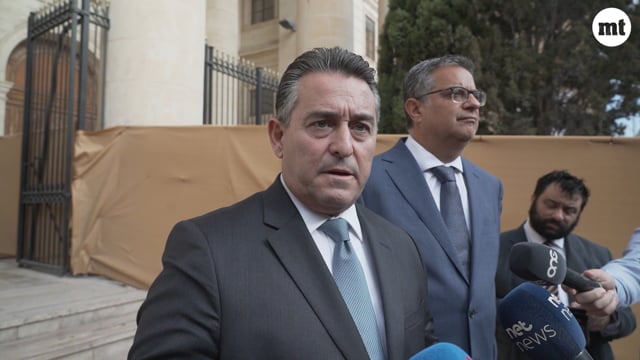 Opposition leader Bernard Grech and his predecessor, Nationalist MP Adrian Delia, have given the Commissioner of Police, the Attorney General and the State Advocate one week to take action against a number of individuals involved in the fraudulent Vitals deal or be held personally responsible in default.
This emerges from a judicial protest filed by lawyer Edward Debono on behalf of Grech and Delia this morning.
The judicial protest states that court proceedings must be filed against Prime Minister Robert Abela in his own name and in his current role, as well as his previous capacity as legal adviser to Cabinet; former Prime Minister Joseph Muscat; Health Minister Chris Fearne and his predecessor Konrad Mizzi; Finance Minister Clyde Caruana and his predecessor Edward Scicluna; former economy minister Chris Cardona; and former OPM chief of staff Keith Schembri.
The protest also calls for proceedings against:
Vitals and Steward bosses and investors Ram Tumuluri, Armin Ernst, Mark Edward Pawley, Ashok Rattehalli, Aasia Parveen Shaukat, Asad Shaukat Ali, Shaukat Ali Chaudry, Mohammad Shoaib Walajahi
Selection committee members James Camenzuli, Manuel Castagna and Robert Borg
Consultant David Galea
Malta Enterprise CEO Mario Galea
permanent secretary Ronald Mizzi
Robert Vella, Peter Mamo
Bluestone Investments Malta Ltd, Pivot Holdings Ltd, Oxley Capital Group
Malta Industrial Parks Limited now INDIS Malta Ltd, Projects Malta Limited now Malta Strategic Partnership Projects Ltd
Bluestone Special Situations 4 Limited registered in the British Virgin Islands, AGMC Incorporated, Portpool Investments Ltd also registered in the British Virgin Islands,
Vitals Global Healthcare Limited, now changed its name to Steward Malta, Vitals Global Healthcare Management Limited, which is now Steward Malta Management Limited, Vitals Global Healthcare Assets, now Steward Malta Assets Limited
Beat Limited and Accutor AG
All of these, the plaintiffs say, are collectively liable in damages for their actions which were made with criminal intent, bad faith, through corruption and in collusion between themselves to the detriment of the people of Malta and Gozo.
"Not the end of, but the start of a war on criminality in this country."
Addressing a press conference on the steps of the Courts of Justice in Valletta, Grech said that the judicial protest is the first step before filing a court case, a means of informing the other parties and the public of that intention. It was the "first of many" such actions, he said, stressing that it was necessary in the wake of a unprecedented judgement by the Constitutional Court, which besides ordering the cancellation of the hospital contracts, had confirmed that there was a conspiracy between the government and foreign companies.
"Therefore we are asking the Commissioner of Police, the State Advocate and the Attorney General to do their duty," Grech told reporters, saying that now the truth has been revealed, it also implies that there must be consequences.
"The judgement is not the end of but the start of a war on criminality in this country."
The finding of criminal intent and criminal actions followed by complete inaction cannot be allowed, said the Opposition leader, arguing that the small fry are rightly prosecuted for infractions, but the authorities hold back when big fish are involved.
"If someone starts shooting inside a school, do we sit back and wait for a magisterial inquiry to finish? They stole, understand this, €400 million from the mouths of the Maltese…they took the hospitals and did nothing."
This betrayal of the people merited immediate action by the police, Grech said, not a wait for court decisions.