Moviment Graffitti activist Andre Callus was dragged away by a group of policemen and arrested during an action near the Mosta trees that were pruned on Monday morning.
Activists are currently blocking workers from fencing off the tree area, to prevent the total uprooting of the trees.
In the process, Callus tried to pull down barriers but was dragged away by a group of policemen, who were grabbing him by the arms and legs.
Police arrested Callus as he laid down on the ground, and carried him away from the group of activists he was with. He was taken to the police station and interrogated.
After his release, Callus told Maltatoday that activists do not want to target the police. "The only responsibility falls on the mayor […] and ERA."
Callus said ERA's behaviour shows that the environment is being made worse through permits of this kind, to cut protected trees without justification.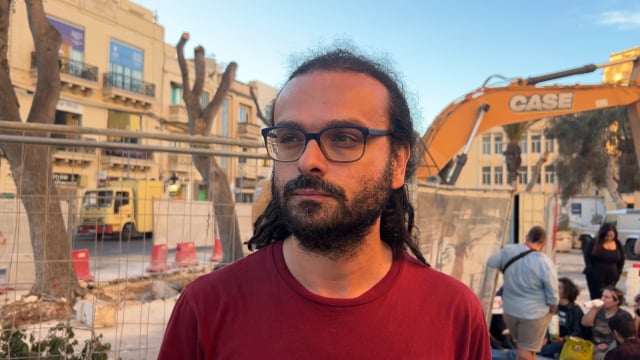 Activists and residents of Mosta convened early on Constitution Street outside the Mosta Dome on Tuesday morning, in protest at the wholesale pruning of the majestic trees that overhung the main bus stop.
On Monday ERA claimed that the local council was merely transplanting the ficus trees to the Santa Margerita area in Mosta. Ficus trees are known for their hardiness, ERA said, and that these were being transplanted during the appropriate time of the year.
However, BirdLife Malta said the removal of these trees poses a serious threat to the local bird population.
Beppe Fenech Adami: Activists' arrest during peaceful protest 'unacceptable'
Reacting to Callus' arrest while speaking in parliament, Nationalist MP Beppe Fenech Adami labelled it "unacceptable".
"It is unacceptable to arrest activists during a peaceful protest. It is not acceptable in a democracy," he said. "This is the situation we have in our country: we have a police force which forcibly removes activists during a peaceful protest, and refuses to arrest criminals."
"They were protesting the removal of trees from a village square; they were trying to protect the environment. That is not acceptable," he said.
Bernard Grech reacts
Opposition leader Bernard Grech condemned the arrest and criticised the Police Commissioner for the move. "No one should be arrested for making their voice heard," he said.
"So those who protest against the cutting of trees are arrested, while those who stole millions of euro run free," he continued, referring to the recent hospital privatisation scandal.
"The Police Commissioner needs to wake up and do his job, as was asked of him by the Court of Appeal. Malta deserves much better."
Randolph De Battista shows solidarity with Andre Callus
Labour CEO and MP Randolph De Battista voiced his support for Callus and Moviment Graffitti as a whole. De Battista described the NGO as an organisation that can always be found working in favour of the environment, among other issues.
"Today I lead a political life, and those who don't want me to get hurt tell me to bite my tongue," De Battista said.
"I will ignore them," the MP stated. "Solidarity with Andre Callus!"