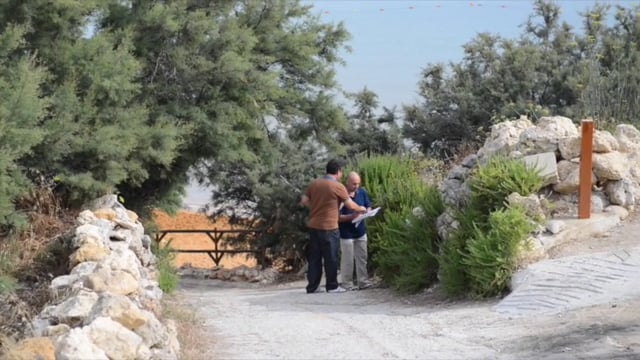 Enforcement officers at San Blas bay • Video by Ray Attard
Malta Environment and Planning Authority (MEPA) has stopped "all illegal works" at San Blas in Gozo and issued an enforcement notice.
Asked what conclusions were drawn by the enforcement officers who visited the site this morning, an authority spokesperson told MaltaToday "the iron structure, gate/ change in topography and reconstruction / construction of rubble require a MEPA planning permission."
The enforcement notice issued by the authority concludes that it was blocking "development without permit on scheduled property covered with Goverment Notice GN 712_06."
MEPA officials have since stopped all work, and issued a daily fine - maximum of €50 per day - against Joseph Portelli, who is claiming
MaltaToday photographer Ray Attard early on Monday morning was on site when the enforcement officers visited San Blas in Gozo to investigate whether works carried out last week were illegal. Land owner Joseph Portelli is filmed giving comments to a Malta Independent journalist.
Portelli has since been issued a daily fine valued at a maximum of €50 per day.
The officers were seen taking notes and speaking to a number of persons on site, including Joseph Portelli who claimed to own the field which was cleared of all vegetation and where a metal structure was erected. He told the officers that he had done nothing wrong and the space was intended for his personal use.
The MEPA spokesperson said "so far, we are waiting a reply from Lands Department regarding ownership. However, during the inspection, Mr. Joseph Portelli has declared to be the site owner and that the site in question is a private land."
Earlier, environment minister Leo Brincat told MaltaToday that he was still awaiting the reports by the MEPA officers on the alleged illegality.
However, if these allegations are proven, it would be tantamount to "environmental rape," Brincat said.
He also welcome the fact that the alleged illegalities caused an uproar which went beyond traditional partisan political lines.
Yesterday, MEPA chief executive Johann Buttigieg denied any involvement in the allegedly unsanctioned development, saying he was unaware of the case flagged by the Malta Independent on Sunday.

The report claimed that a metal gate and a canopy structure have been erected on a piece of land just a few metres above the picturesque bay and alleged that rubble walls were torn down to make way for a camping site and a kiosk, or an exclusive beach area for a Gozitan hotel.
In reaction to the report claiming that he was seen at the bay with a Gozitan entrepreneur overseeing works on the site in San Blas, MEPA's CEO said the allegation was unfounded and that the last time he set foot at San Blas "was eight years ago".

"On Tuesday morning I was at a Holy Communion mass at my son's school and afterwards we had a small reception. After that I went back to the office and immersed myself in meetings," Buttigieg said, adding that he considered the "inaccurate report as a personal attack".

Gozitan entrepreneur Joseph Portelli, who is reportedly involved in the development, was present at San Blas when the enforcement officers visited the site.
In March 2013, MEPA had waived the developers' obligation to carry out an environmental impact assessment on development of 103 new dwellings instead of the Forum Hotel in Swieqi, proposed by Portelli.

MEPA had said that it had waived the EIA because the new development is not deemed to have any "significant environmental impacts".

Twenty-five houses, 78 apartments, a number of office buildings, a supermarket and an underlying parking are being proposed on the site of the Forum Hotel in Swieqi by Portelli.

The waiving of the EIA, issued on 22 March 2013, was approved by the director of MEPA's Environment Directorate, Petra Bianchi.
Enforcement notices
In May, MEPA issued enforcement notices against illegal development which took place over the past two decades in Paradise Bay and Golden Bay in Mellieha.
The Environment and Development Planning Act, which came in force in 2011, rules out the sanctioning of illegalities in scheduled zones mentioned in Section 6 of the Environment and Planning Act.

Before the law was approved, MEPA could approve any illegal development, irrespective of whether it was located in a scheduled site or not.
However, the Labour administration intends to remove the blanket ban on the regularisation of development outside development zones (ODZ) and scheduled areas like areas of ecological and scientific importance.

This emerges from consultation document "For an efficient planning system" which was issued for public consultation earlier this year. The document is a consultation paper on the proposed split of MEPA into separate environment and planning authorities.

Article 70 of the Environment and Development Planning Act enacted by the previous government in December 2010 prohibited the MEPA (Malta Environment and Planning Authority) from regularising any illegal developments built in ODZ or scheduled areas.

The sixth schedule of the Environment and Development Planning Act also bans MEPA from regularising any illegal extension to ODZ development.

According to the consultation document, the deletion of the sixth schedule will be replaced by the imposition of daily fines: ostensibly, this would mean that daily fines start incurring from the day somebody applies to regularise their illegal development, to the date that MEPA issues permission.
NGO slams development
Environmental NGO Din l-Art Helwa (DLH) strongly condemned any illegal development at San Blas in Gozo.
The NGO said it is "ironic" that while MEPA's enforcement directorate was recently applauded for issuing enforcement notices on similar developments at Golden Sands and Paradise Bay, no such action was taken on this illegal and unacceptable land clearing activity of a scheduled ecological site despite MEPA having already been aware of it.
"Din l-Art Helwa asks that MEPA takes urgent corrective measures to protect one of the few pristine beach areas left in our islands. San Blas should also not be leased out for private parties which exclude its use by the public, and leaving behind an unsightly mess as has happened on various occasions."
Moreover, the NGO said it should be self-evident that the chief executive officer of a regulating authority and officials should not have financial interests in the sector which they are involved in regulating.
DHL also called on the MEPA chairman to confirm to the public whether the CEO was involved in the development, "as any uncertainty on this matter will only serve to further erode public trust in the Planning Authority."