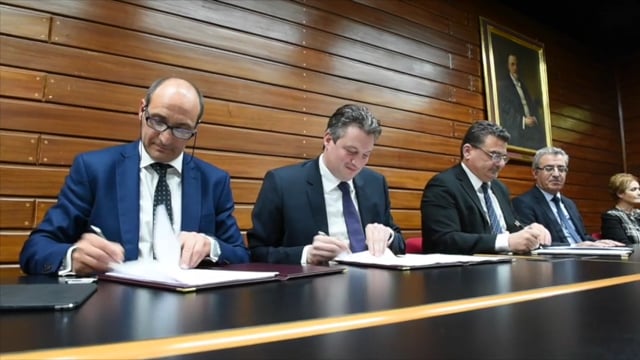 New agreement to ensure that an average of 200 medical students are enrolled in the University of Malta every year • Video by Ray Attard
An agreement signed between the University of Malta, the Ministry for Education and the Ministry for Health seeks to ensure that the Malta Medical School does not lose out on students when new medical institutes open up in Malta.
The agreement was signed by Rector Juanito Camilleri, ministers Konrad Mizzi and Evarist Bartolo and parliamentary secretary Chris Fearne.
The aim of the agreement is to safeguard the Malta Medical School, which was set up 420 years ago, and it ensures an average of 200 students are admitted to the University of Malta every year.
Camilleri explained that a total of 142 medical students had enrolled for the medical course this year and that the figure agreed upon had also taken into account the developments occurring in the health sector.
"Developments like the amplification of services offered at St. Luke's Hospital and Karin Grech hospital among others will offer students more placement opportunities, and it will offer graduates further possibilities of specialisation in various fields," Fearne said.
Fearne said that the government had sought to preserve the national and strategic importance of the local course, and he explained that the internationalization of the university and of the sector in general had the aim of offering more opportunities to Maltese students and making Malta a competitive and professional medical hub.

The agreement also looks at the possibility that Maltese students seeking placement programmes have access to hospitals operating under a public-private partnership.
Mizzi said that the government was aware that change often brought anxiety, but he explained that the agreement had been designed specifically to offer long-term support to the quality of the services offered by the University of Malta.
The government is set to sign an agreement with the Barts Medical School which will be opening its first overseas campus in Gozo.

"We are safeguarding the past and finding the appropriate mechanisms to allow educational institutions to operate in the future," Camilleri said stressing that the agreement would also seek to ensure cooperation between the different educational institutions even in terms of research opportunities.