[WATCH] Mizzi to close down Panama offshore company after audit
Energy minister pledges to close down company registered in Panama after an audit 'so as to avoid baseless speculation', will maintain New Zealand trust • Prime Minister says situation of energy minister, chief of staff is 'different'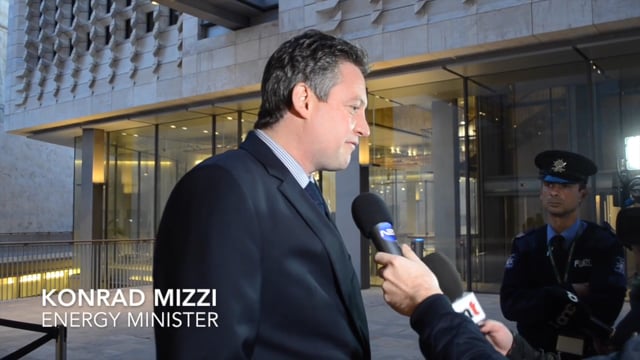 Energy Minister to close down Panama company after audit
Energy minister Konrad Mizzi has said he will close down an offshore company that he registered in Panama, a controversial tax jurisdiction, following an audit by the Commissioner for Inland Revenue.
In a statement, Mizzi said that he will close down Hearnville Inc., an off-the-shelf company acquired by ATC Administrators for him, "to avoid baseless speculation and respond to genuine feedback" while pledging " will be full disclosure on the dissolution process."
His trust, Rotorua, registered in New Zealand, which is run by Orion Trust Limited, will be retained. "I have declared the trust and company, acted correctly throughout, provided full disclosure, subjected myself to scrutiny by Inland Revenue and also responded to genuine feedback," he said.
He added that he had declared the setting up of a trust in New Zealand for family estate management and that he was the ultimate beneficial owner of Hearnville Inc, whose owners appear as Orion Trust Limited.
Questioned by MaltaToday whether his chief of staff, Keith Schembri, should do the same, Prime Minister Joseph Muscat drew a distinction between Mizzi as an elected member of parliament and Cabinet member and Schembri as an unelected person with business interests. Yesterday, Schembri said that he was in business and built his own group over 20 years of hard work. After taking up his current job, Schembri stepped down from directorships on his companies and consolidated his structures by opening a family trust both locally and abroad.
In an in-depth interview with MaltaToday, Mizzi fended off suggestions that he should resign, arguing that everything he did was legal and declared.
Mizzi also provided three statements, dated 26 February 2016, from ATC Administrators, which certified having held Hearnville's shares before transferring them to Orion Trust in July 2015; from Orion Trust saying that it owns 100% of Hearnville's shares, that neither Orion Trust or Rotorua hold any bank accounts as yet, and that Hearnville has never traded to date and has no assets or bank accounts opened in its name.
Mizzi pledged to declare every change in his financial set-up within the parliamentary declaration of assets, and said he will submit himself to an annual audit by the Commissioner of Inland Revenue in order to keep everything above board.
He denied using the Panama-New Zealand offshore centres to avoid paying tax on the full value of his asset base or the investments he will realise in future, and said he would pay full tax on any earnings he declares in Malta.
He also denied suggestions that his Panama company enabled him to receive incomes whose sources he did not need to disclose, an untenable position for him as a minister who takes decisions on multi-million projects such as the Electrogas plant.
"I have been transparent… you've seen the names of the trustees. I refute all allegations. [PN leader] Simon Busuttil has alleged that millions are in this bank account. There isn't one penny."
Mizzi was pressed hard on the fact that Panama is notorious for secrecy laws and for housing money-laundering operations. "Let's be clear. I declared my trust up-front. Had I not declared my assets in the parliamentary declaration your questions would be legitimate. I will be actually monitoring all the activities of the trust, annually updating changes in the activities of the trust, and pay all tax in Malta..."
On his part, Keith Schembri has admitted holding a New Zealand trust, as well as an attached company that was opened "as a contingency upon advice from his financial advisors" over the possibility of local banks changing their business model or transferring their trust business to third parties.
Schembri was referring to HSBC and Bank of Valletta's decision to move out of the trust business and transfer their divisions to legal and financial services firms.
He yesterday said that he would be asking "a reputable auditing firm" to audit the New Zealand-based trust and related operations. The report would be made available to the media.
The Opposition now wants Prime Minister Joseph Muscat "to speak about the behaviour" of his chief of staff and the energy minister, demanding that responsibility be shouldered for their offshore companies in Panama.