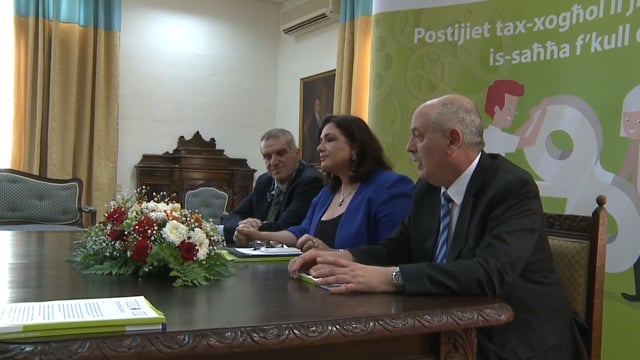 Helena Dalli launched an EU wide campaign on health and safety
Social dialogue minister Helena Dalli launched an EU wide campaign on health and safety at the workplace to target the most vulnerable groups in the workforce, including the elderly and younger generations.
"Many European countries have ageing populations, which means that employees keep working at an older age than before," she said explaining that awareness and knowledge was therefore necessary to companies and the way they distribute and organise work to ensure that their health and safety was properly addressed.
Dalli said that the campaign was in line with active ageing principles and that it complemented using the skills they have in society and in the workforce effectively.
The campaign would see information manuals being distributed amongst social partners and companies, as well as among schools to ensure that lessons are taught at an early age. Dalli added that teachers were also being given information by the OHSA about the services offered.
She added that the campaign would also look at mental health conditions that are also essential to the work place.
"Many dangers are stress related and employers have the duty to ensure serenity to their employees," she said adding that employers also had to ensure good work life balance to their workers
"We need to focus on balance and moderation particularly in the work place," she said highlighting that Malta was proud to participate in this EU project t to accommodate new realities.
Dalli stressed that education, awareness and changing cultures were essential for people to cope with the changing realities.
"Older employees and colleagues need to be considered a fount of valuable experience rather than someone to be shunned, " she said.
Dalli further pointed out that the use of ICT and the possibility of working from home also made this change towards older employees more possible and realistic.
OHSA CEO Mark Gauci added that the theme of the campaign also includes younger people.
"Young people are associated to the highest number of accidents at the work place and the older groups are associated to accidents that have the most lasting effect."
He added that vulnerable groups could include women and pregnant women.
Gauci added that Malta would also be hosting the EU's good practice award for 2016 in relation to the theme of the European campaign, and that the competition was being opened to submissions today until the 30th September 2016. The best two examples would then be sent to the EU agency to compete on an international level