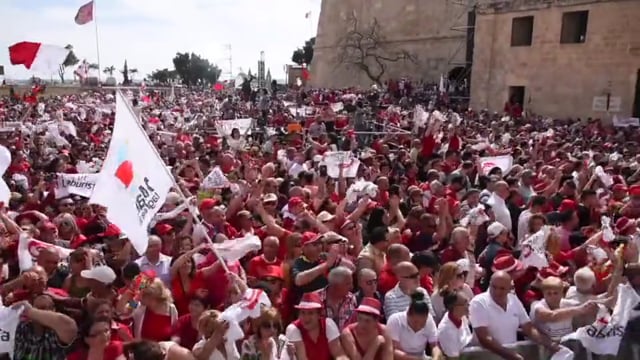 Labour supporters out in droves for 1 May mass meeting
It's past 4pm on a public holiday, and despite the scorching sun, Labour Party supporters are gathering in Valletta for their party's mass meeting organised as part of the May Day celebrations.
And although there is more than hour to go – the Labour meeting starts at 5pm with Joseph Muscat's speech scheduled for 6pm – the party faithful are in a party mood, dancing along to the tune of 'A New Tomorrow', the music associated with the Labour's 2013 electoral win.
In front of Castille in Valletta, Labour supporters turned out early, sufficiently to start filling the main square and spilling into nearby streets. People have filled Triq Gilormu Cassar, the road leading from Floriana up to Castille square.
People can be seen wearing traditional party colours, carrying flags and horns and wearing scarves with their party's emblem.
People are holding large cutouts of prime minister Joseph Muscat's picture in what is surely a show of support by the party faithful, telling their leader that they stand behind him.
And a sure reminder of Labour's 2013 slick campaign is the trailer set up for members of the media, complete with coffee-making facilities and food.