[WATCH] Busuttil testifies before inquiry, says 'institutional failure led to political crisis'
Magistrate Natasha Galea Sciberras heard the Opposition leader in her inquiry into allegations that the Prime Minister's chief of staff could have received kickbacks over the sale of passports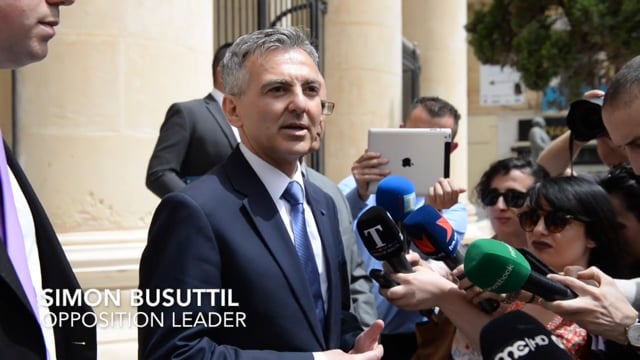 Simon Busuttil testifies before magistrate investigating IIP kickback allegations
Opposition leader Simon Busuttil this morning appeared before magistrate Natasha Galea Sciberras to testify in an inquiry investigating allegations that the Prime Minister's chief of staff received kicbacks.
In comments to reporters after testifying, Busuttil decried what he described as an institutional failure which led to the current political crisis.
"If we had been a normal country it would have been the police who took action, because they were aware of this for over a year. If it was a normal country it would have also been the AG, who knew of these allegations both as AG and as chairman of FIAU for a year and did nothing either, to take steps."
The Attorney General has a duty and right to take action in such cases, Busuttil said.
"In a normal country Keith Schembri would have been charged with money laundering, bribery and corruption. Apart from the fact that the PM would have long since resigned."
The allegations were first raised by Busuttil two weeks ago, when he claimed to have evidence showing that three Russian individuals, who were awaiting for approval to their IIP application, had transferred a total €166,831.90 into a Pilatus Bank account belonging to Willerby Trade Inc, owned by Nexia BT managing partner Brian Tonna.
Busuttil said that he had evidence to prove that Tonna then went on make two transfers of €50,000 each to an account held by Schembri at the same bank.
Two days later he presented his evidence in front of Magistrate Aaron Bugeja - who is leading a separate inquiry into allegations that the wife of the Prime Minister owns shares in the secret Panama company Egrant. Bugeja had concluded that there was sufficient reason for a separate inquiry to look into the allegations raised by Busuttil.
It is understood that Busuttil's allegations originate from a report by the Financial Investigation and Analysis Unit (FIAU). Schembri said that the money transferred to his account was the repayment of money he had loaned to Tonna in 2012. But the FIAU dubbed the transaction as being of "highly suspicious nature", noting that Pilatus had not filed a suspected transaction report. Instead, it had asked the two men for a justification for the transfer of money, and they were presented with a loan agreement made in 2012 for a €100,000 loan.
In a statement, Schembri said he welcomed the selection of the magistrate, which took place at random. "I have absolute trust in the judiciary and I will be cooperating in full with the inquiry, and look forward to the opportunity to expose the whole truth."
'Why is Pilatus Bank still operating?'
In his comments to reporters outside the law courts, Busuttil said it was "incredulous" that Pilatus Bank was still operating.
The Ta' Xbiex-based bank is at the centre of a storm over allegations that it hosted an account for the Maltese prime minister – or his wife – to process a million-dollar payment from the Azerbaijan ruling family. The Muscat couple has denied the alelgations.
Pilatus Bank has started legal actions in the United States of America against "individuals" it said had threatened its reputation with defamatory allegations.
"I am more concerned by what the Attorney general, the MFSA and the Police are not doing," the PN leader said.
Busuttil said that "Pilatus Bank has a total of 100 clients, high net worth individuals, including politically-exposed persons from Azerbaijan". The bank, he added, was known for being "close to Keith Schembri".
"Everything indicates towards a bank that operates as a machine for money laundering and I don't know why the MFSA is waiting until the 3 June election to do something," he said.