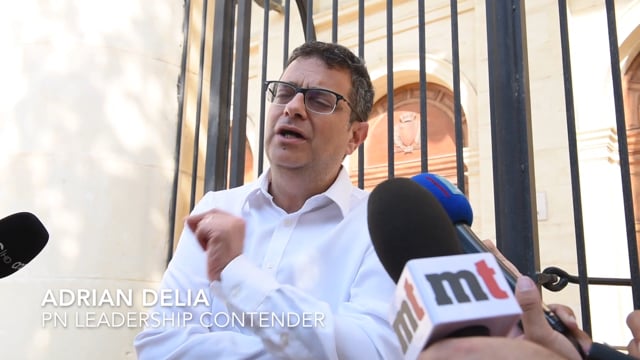 Delia denies offshore account holds 'personal' monies, doesn't rule out client work
PN leadership candidate Adrian Delia has lashed out at Malta Independent columnist Daphne Caruana Galizia, accusing her of "journalistic dishonesty" in her allegations surrounding his holding of a bank account in Jersey, a tax haven.
At a press conference held outside the court this morning, Delia vehemently and categorically denied holding monies offshore – belonging to him personally.
He suggested that there was "a hidden hand" acting behind the scenes to undermine his efforts to be elected as leader of the PN, saying it is "a sign that he is already getting under some people's skin."
On the allegation that his Barclays International account in Jersey somehow indicated impropriety on his part, Delia strenuously denied this. "Nothing but a manipulation, the creation of false stories – we know who is writing them – to give the impression that I somehow lied."
"It is not acceptable for someone to repeatedly attempt to give a wrong impression, in the middle of an electoral campaign, by writing a series of articles aimed solely at reducing my credibility to try and paint me as someone who I am not. I am certain that this way of doing politics is destructive and not unifying," Delia said.
"This writer is clearly, once again, creating an agenda... now during a party leadership election campaign. She had, for example also written that I had gone out to eat with (former tourism minister) Edward Zammit Lewis and his family with my wife. This is absolutely not true."
"I challenge her, here and now, to bring evidence to support her claims. Liar."
As Delia was delivering his press conference, Caruana Galizia took to her blog to publish 2003 documents that would allegedly show how a Jersey account in his name would be used to process a client's money, that would be transferred to two companies incorporated in the Marshall Islands.
"Let me be crystal clear, I never ever, had a personal account...I'm talking about my accounts, I'm not talking about client's accounts. In my line of work you often have accounts for work. The impression that I hid money outside Malta, that I sent my money abroad into an offshore bank account, is a complete lie," Delia told reporters.
At 1am this morning Delia had requested the court registry be opened urgently to allow him to file his libel case. However, at 5am, Magistrate Marse-Ann Farrugia turned down the request that the registry be opened for the urgent submission of the libel application, which Delia went on to file later this morning, during the registry's regular opening hours.
Delia is one of four candidates vying for the post of PN leader. This evening, at 9pm, all candidates will be grilled by four independent journalists in an interview that will be aired live on Net Television, Radio 101 and streamed live on the PN's Facebook page.
On Saturday 2, members of the PN general council will cast their vote in the first round of elections.