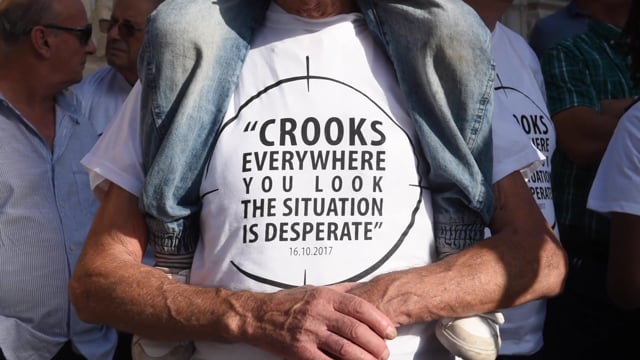 Thousands attend demonstration in wake of Daphne Caruana Galizia's murder
Watch the demonstration live:
Thousands of people have gathered in Valletta in a demonstration, organised by the Civil Society Network, in a reaction to Daphne Caruana Galizia's brutal assassination on Monday.
The overarching sentiment is one of a refusal to be silenced, a protest against the Police Commissioner and Attorney General's lack of action, and a drive for the person responsible to be brought to justice.
Several people in the crowd, which includes foreigners and students, are carrying placards, a number of which display Caruana Galizia's final sentence in her last blog post, posted minutes before her assassination, "There are crooks everywhere you look now. The situation is desperate".
"We deserve better," one person attending told MaltaToday. "All we want is whoever was responsible to be brought to justice," said another.
"I am worried about my son growing up in a society where we cannot trust the police and other institutions", another demonstrator commented.
A mother of three told us, "I'm outraged. It's worse than 87, because then we had Eddie. Today we have no one." "We want the institutions to go back to where they were before." Now it was journalists who had to stand up and be counted, she said. "You have to cooperate without envy or competition and do proper investigative journalism."
One placard called on police commissioner Lawrence Cutajar to resign, while two young women were seen carrying a banner referencing Attorney General Peter Grech's lack of action and disregard for his constitutional role.
Members of the Kunsill Studenti Universitarji (KSU) have joined the demonstration. KSU President Robert Napier, speaking at the protest, said that Caruana Galicia was never afraid to fully exercise her right to free speech. Students were attending the protest today to put forward one message, "We will not be afraid. What happened on Monday will not stop us from freely expressing ourselves," he said. He remarked that it was a big pity that Malta was in the international media for such a barbaric act.
Christophe Deloire, Reporters Without Borders director, also attending, made reference to the Charlie Hebdo killing in 2015, and said that today people were gathering "for Daphne, we are Daphne, je suis Daphne." "They want to silence us," he said, "but from us them will not have more than one minute of silence," adding that Caruana Galizia never gave up and we wouldn't either.
Political commentator James Debono said that on Monday, Daphne was given the death penalty by someone who thought he was omnipotent. It was very good that the government would do everything to catch the culprits he said, but that was not enough. "We do not want to live in a mafia state, we do not want to be the washing machine of dictators' and criminals' money," he said, "we need to show the criminals who killed Daphne that Malta has functioning institutions which we trust. In the last years, the institutions have failed us, with the Panama scandal being hidden under the carpet."
Manuel Delia, also speaking, said Daphne had given her life to Malta, not on Monday, but every day in a career which spanned 30 years. She did not die because of what she wrote, she died because she alone uncovered the greed in this country, he maintained. Despair at the situation never made Caruana Galizia stop writing, and she was motivated by a sense of duty towards our society and the need to uncover the truth, he added.
Claudine Cassar, a former MaltaToday columnist and director at a Big Four firm, said that Caruana Galizia's assassination was a reflection of the state of Maltese society. "Daphne was a normal woman who went on the frontline, alone, armed with a laptop, fighting against organised crime, mediocrity and the failure of society," she said, emphasising people's duty to use their voice to press for change, for a police commissioner which they could respect, and a truly independent judiciary.
"We came here because we are not for sale," PN councillor Michael Briguglio said, to cheers and applause. "We do not believe in violence, we believe in what are volunteers for what is right, we are here because we want justice... This country is going through a crisis and all the international media can now see this. There is a surplus of criminality, money laundering and corruption, and our country has been taken over by bullies and those who could do what they want."
"What is the use of civil liberties if you risk being blown up when you speak your mind," Briguglio said. "This is a mafia state," he maintained, to chants of "mafia, mafia" from the crowd.
A clear request was presented by the organisers, demanding the resignation of the police commissioner and Attorney General, and for them to be replaced with people chosen by a two-thirds majority in Parliament.
These were requests which the Nationalist Party also made in parliament, but the civil societyfront stopped short of calling for Prime Minister's resignation as the PN did.