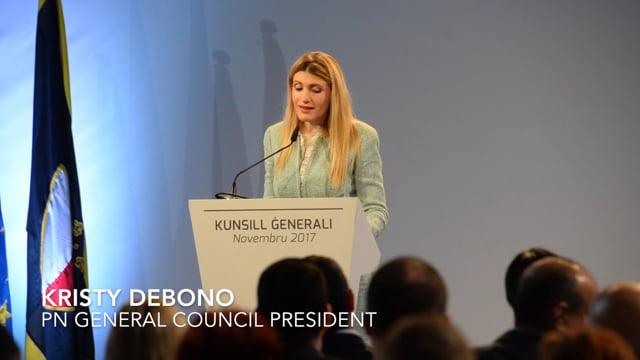 Personal differences must be overcome, new PN General Council President Kristy Debono says
Together we form one party, newly elected PN General Council President Kristy Debono said, highlighting the need of the Nationalist Party to offer Malta new hope.
In her address to the party's General Council, which is currently under way at PN headquarters in Pieta, Debono emphasised that the worst thing the party could do was to engage in infighting.
As the country goes through this difficult time, she maintained, the party had to form policies which could bring the country forward, so as to offer a better life for Malta and Gozo's people.
"We have to debate our ideas, give value to our different opinions, and respect the decisions which are reached during our discussion processes," she maintained, adding that the party's members had to put aside their differences for the good of the people.
The party had to work towards collective solutions, she insisted, and whoever did not do this would not be fulfilling their political mission.
Addressing the Council, PN deputy leader for parliamentary affairs Mario DeMarco said that our country was a 'mafia land', as he asked how we came to be in such a state. When Joseph Muscat was elected in 2013, he started dismantling our institutions with a clear objective, and this is what brought us to where we are now, he said.
The call for the strengthening of our institutions was stronger and more relevant than ever before, he maintained.
There is no new or old way of Nationalist Party politics, he told those present, the only type of politics was honest politics, he said, as he saluted the party's previous leaders.
I will not abandon the party and I will be working with (party leader) Adrian Delia, he said passionately, adding that the more the Nationalist Party weakened, the more the Labour Party was strengthened.
Nationalist Party deputy leader Beppe Fenech Adami saluted Daphne Caruana Galizia, and said she was not afraid to uncover the government's dealings - a government which was the most corrupt in Malta's political history.
The party was at a crossroads he said, and had to choose whether it would be relevant or irrelevant for the people.
"Let us as a party remain the party of good values," he said, as he maintained that no politician had the right to spread more corruption within the country.
"This is my last speech as deputy leader," he said, "and I did the best I could and put all my strength into working for the party", as he thanked former party leader Simon Busuttil and Mario DeMarco.
Fenech Adami, echoing DeMarco, added that he would continue to work within the party.