[WATCH] Adrian Delia insists PN government would repeal IVF changes, in spite of MPs' free vote
PN Leader Adrian Delia says granting his parliamentary group a free vote on amendments proposed by the government on the IVF and Embryo Protection Act would not stop him repealing all such changes when in government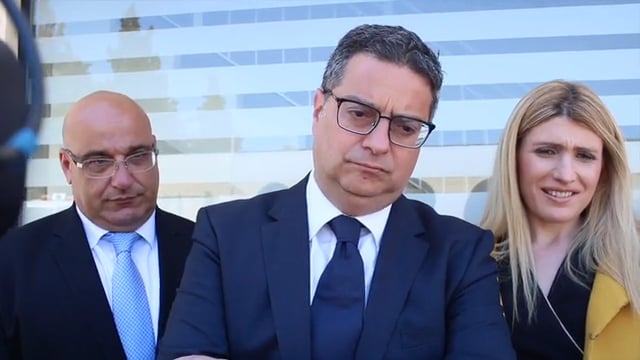 Adrian Delia on free vote given to MPs
A Nationalist government would repeal amendments to the Embryo Protection Act and the law regulating in-vitrio fertilisation (IVF) as those being proposed by the government even though PN MPs have been granted a free vote in the current second reading in parliament, Adrian Delia said today.
The PN leader, who was speaking to the media following a courtesy visit to Videoslots Ltd, a gaming company based in Pieta, said that he saw no conflict in the matter.
"A free vote has been granted, as I vowed to do in my leadership campaign, because this is a moral issue," he said. "But a Nationalist government will repeal these amendments being proposed and all MPs would have to abide by the decision of the majority."
Proposed changes to the law will allow embryo freezing on condition that prospective parents agree to give up unclaimed embryos for adoption. Parents who, before the start of the treatment, decline to agree with the adoption clause will only be allowed to fertilise two eggs, with all resulting embryos being transferred to the womb – as happens today.
Changes to the Embryo Protection Act include the introduction of sperm and egg donation, and extending the age of women who would be able to benefit from IVF to 48 in cases where eggs come from a young donor.
Read also: An idiot's guide to how Maltese IVF law will change
Delia had immediately said that PN MPs would be granted a vote on the bill opposing the amendments, but at a political activity on Sunday, he declared that a new PN government led by him would turn back all the changes proposed since, unlike the Labour Party, the PN was in favour of life and not its destruction.
He said the government was doing everything it could to avoid having to use the term "child in the womb" by using a raft of scientific terms in the proposed bill.
When today he was asked by MaltaToday if this meant that any PN MP who, embracing the free vote, voted in favour of the changes, would have his vote ignored by his own party in government, Delia said the decision of the majority would supersede any individual vote.