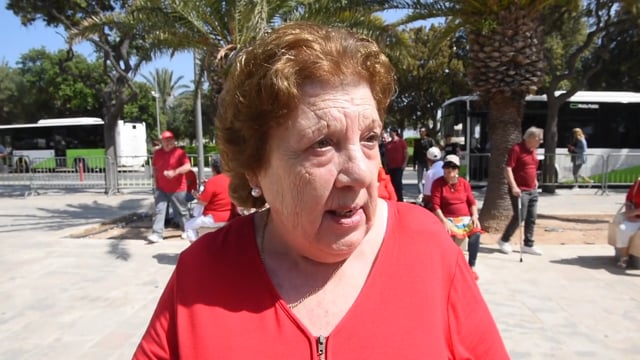 Labour supporters at the Workers' Day mass meeting event seemed equally enthusiastic about celebrating May Day and showing support for their leader.
They stood unfazed in face of the recent allegations brought forward against the government by the Daphne Project.
Speaking to MaltaToday, a woman said she was bothered more about the accusations against Nationalist Party leader Adrian Delia than those against Muscat.
The majority of supporters spoke in unison and knew exactly what brought them to Tritons Square: celebrating 1 May and supporting the Prime Minister.
"I have done well under [Muscat]," one pensioner said. "He increased my pension. I had a yearly €400 tax and he removed it," she said, adding that if her children got fed up of being in one workplace, they could always find another one.
Oddly, when asked whether she was worried about the accusations of corruption put forward against the government, she said that the Prime Minister had already resigned – but the people wanted him again. "They have no reason to keep doing this [level corruption allegations]."
A group of young people was similarly convinced that the allegations were nothing to worry about. "The only thing we see is wealth," a woman said, adding that there is employment in the country and that everyone is happy. "This is what we care about most," she said, to which her friend interjected to say that "everything is going well."
"What is important is that the accusations are accusations. They didn't find anything," she said, adding that Joseph Muscat, Keith Schembri, and Konrad Mizzi always "won the accusations."
When asked what brought him to Valletta, one man said that he came to support his "great leader". But he said that he is worried about the accusations being made against the government since they were tarnishing the image of the country and Muscat personally. "We have such a good prime minister," the woman next to him interjected.
"I am here because I have been a Labourite all my life," another elderly man said, adding that Dom Mintoff had done away with poverty and Muscat, who is "a godsend to the country", has kept Malta "rich".
"I am a pensioner, and we have absolutely nothing to complain about under [Muscat]," he said, explaining that the PN never cared about workers. "Under Mintoff we were good, and under Sant as well – but Muscat was sent by Christ."
Accusations against the government are strengthening it, he said, because Muscat is "so genuine".
Another man – who said that he has been attending May Day mass meetings while still in his mother's womb – found it unacceptable for anyone not to show support for Muscat. "He is our courage," he said.
But he admitted that he was initially worried about the Daphne Project allegations but quickly clarified that he is sure that Muscat is innocent. The same sentiment was echoed by yet another supporter who said that he is used to the accusations. "They never have proof," he said. "The people are used to this now, I think."