[WATCH] Lifeline rescue vessel docks in Malta as migrants are transferred to Marsa centre
Ship carrying over 230 migrants docks in Malta after ad hoc agreement with seven other EU member states is reached • Three babies and an adult admitted to hospital upon disembarkation • Captain receiving legal assistance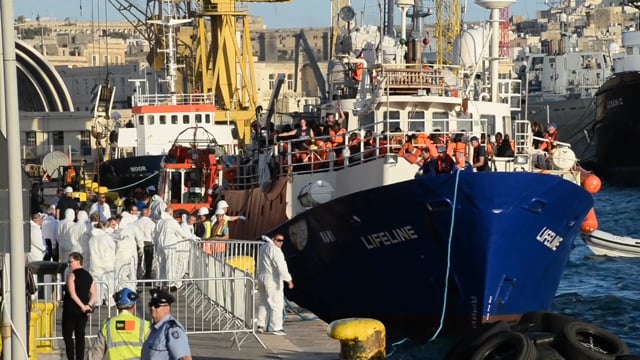 Lifeline rescue vessel docks in Malta as migrants are transferred to Marsa centre
• Three babies and an adult were hospitalised
• Ship captain is being advised by two Maltese lawyers after he was informed by authorities that he broke a number of regulations
• The slow disembarkation process contrasted with the ongoing music from the Isle of MTV concert just across the harbour in Floriana
Three babies and an adult migrant who disembarked from the rescue vessel Lifeline were taken to Mater Dei hospital for medical assistance as all other people were escorted in police vans to the Marsa reception centre.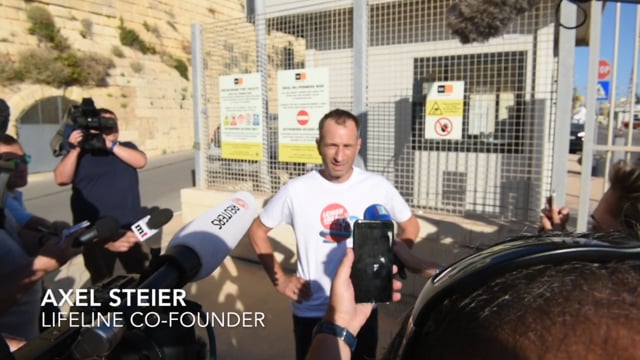 Lifeline co-founder Axel Steier in Malta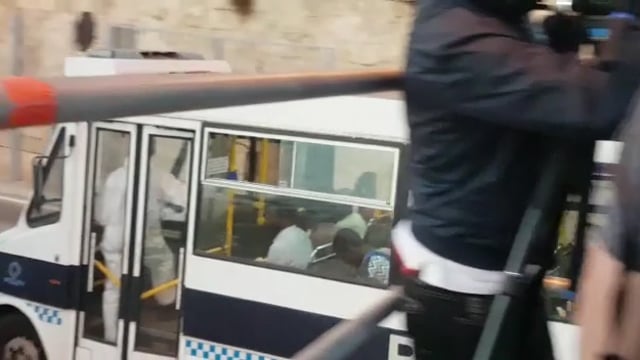 A police van leaving Boiler Wharf in Senglea with migrants who have just disembarked
The dismebarkation process ended shortly after 9pm.
The ship had 233 migrants on board and had been at sea for almost a week after it was refused entry into Italian and Maltese ports. There were 17 women and five children among the rescued migrants, co-founder of the NGO, Axel Steier, said.
Steier was speaking to journalists at Boiler Wharf in Senglea, where the vessel had been ordered to dock after an ad hoc agreement between eight EU member states, including Malta, was reached earlier in the day.
Police vans and a number of army personnel were on site, as well as a number of ambulances and medical personnel. Three tents were erected for the initial medical screening of the disembarked migrants, who appeared tired.
Police Commissioner Lawrence Cutajar was also on site.
Persons displaying a 'Stop Human Trafficking' banner were observed on top of the fortifications.
Earlier
Prime Minister Joseph Muscat announced that the vessel would be allowed to disembark the migrants in Malta after an ad hoc agreement with seven EU member states was reached.
READ ALSO: Lifeline standoff: Ship to dock in Malta as Joseph Muscat announces migrant distribution deal with other EU countries
Muscat said that the Lifeline will be impounded upon arrival, and the captain's actions in this "unique case" will be investigated.
The Prime Minister said Malta, Italy, France, Ireland, Luxembourg, Portugal, Belgium and the Netherlands had pledged to distribute the rescued migrants between them once they were processed. The confirmations from Belgium and the Netherlands came while Muscat was addressing the conference.
READ ALSO: Government must explain change of heart on Lifeline, Adrian Delia says