[WATCH] German Evangelical Church president on Malta visit to support NGO's migrant missions
A delegation from the German Evangelical Church joined members of rescue organisations Sea Watch, Mission Lifeline, and Sea Life at a short vigil at the Valletta waterfront, calling on European governments to seek feasible, humane solutions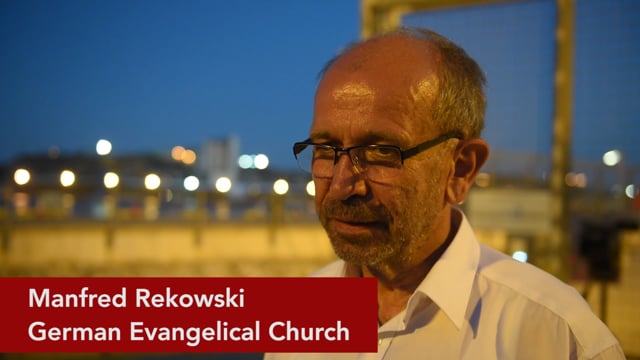 German Evangelical Church president on role of NGOs
Migrant rescue operations are not only required by international law, but are also an expression of being human and being children of God, German Evangelical Church President Manfred Rekowski during a visit to Malta.
"It's as simple as this: when they are endangered on their way we have to save the children, together with their families. We have to get them out of the water and rescue them from drowning and together seek for solutions to live on," he said.
Calling on European politicians and governments not to violate international law and to seek joint solutions, Manfred also expressed his support for sea rescue organisations.
"We are also here to stand by those who do not turn away from refugee children and families in danger of death, but who save lives at sea."
Manfred, who is also the highest representative of the Evangelical Church in the Rhineland and migration expert for the evangelical church in Germany, is part of a delegation which arrived in Malta on Monday.
He was speaking during a press conference with migrant rescue NGOs Sea Watch, Mission Lifeline, and Sea Life on Tuesday evening. The event also served as a vigil for the lives lost at sea.
Rescue operations are about "people not numbers", and the German Evangelical church supports the NGOs because they are effective in saving human lives, Manfred told this newspaper.
Speaking during the conference, a representative of Sea Life reiterated the organisation's pledge to fight "inhumanity of european politics" and for "the right to rescue."
"We are not here to keep on watching and praying for the future of the children, since this is the least we owe them. We are here as churches of Europe and we call on our partners to do the same: to stand in for those in despair, and to restore the dignity of our countries," Manfred said.
German Evangelical Church president on Malta visit to support NGOs' migrant missions