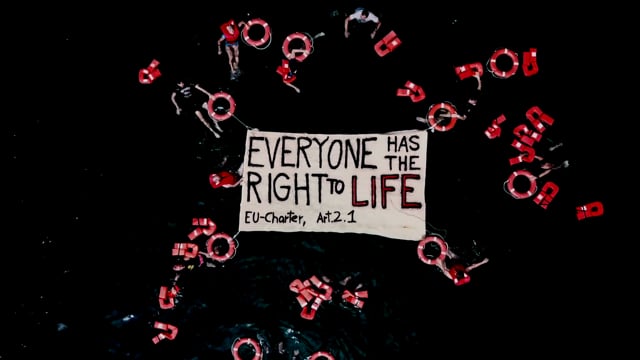 [WATCH] Humanitarian NGOs swim out at sea with 'right to life' banner
The crews of the humanitarian NGO vessels Lifeline, Sea-Eye and Sea-Watch staged a demonstration to protest their blockade, as they swam in the water with a swimming banner reading Article 2.1 of the Charter of Fundamental Rights of the European Union.
Article 2 of the EU Charter states that everyone has the right to life and that no one shall be condemned to the death penalty, or executed.
"We have demonstrated and voiced our opinion with a swimming banner of Article 2.1 of the EU Charter and life saving equipment in the sea. The same sea in which so many people have drowned already and that has become a mass grave," Sea Watch said in a statement,
"As EU values keep drowning in the Central Mediterranean, it's up to us, the civil society, to prevent a total systemic collapse into barbarism and to defend what Europe stands for.
"We want to go back out to the international waters and fight for people in need and for the appreciation of life. We cannot accept Europe's understanding of human rights being limited to its borders. The practical negotiation upon the worth of a human life makes the Mediterranean Sea the deadliest border in the world. This is not acceptable."
Humanitarian NGOs with vessels berthed in Malta have been prevented from leaving the island after Italy threatened to block access to rescued asylum seekers. Malta has since obliged in a controversial resolution to stop the NGOs from sailing off from the island, with the ships now docked for 41 days.
"Human rights and the fundamental rights of the EU are non-negotiable! To stand up for those rights should neither be hindered nor criminalized, it should not even be up for discussion. Sea rescue is not a crime, letting die is one. Day Orange has set a powerful signal in many cities for the civil society's fight to remind the politicians of that," the NGOs said.