[WATCH] Adrian Delia 'will not speculate' on Egrant ownership but stops short of censuring Simon Busuttil
Opposition leader Adrian Delia refuses to censor Simon Busuttil over Egrant claims, insisting that if the Prime Minister published the full Egrant inquiry he would be saving Parliament from speculative discussions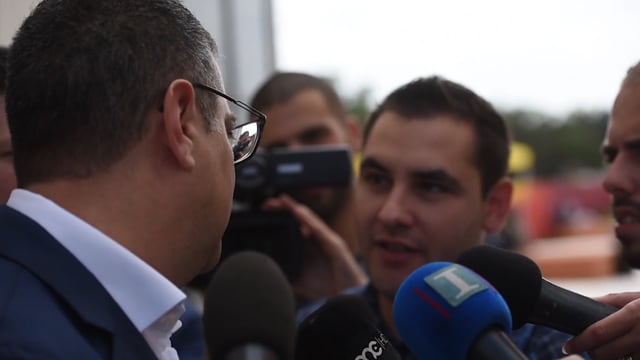 Adrian Delia reaction to Simon Busuttil
Adrian Delia has said that his position on the ownership of Egrant has remained unchanged and that he preferred not to speculate on the matter.
The Nationalist Party leader, however, refused to censor his predecessor, Simon Busuttil, who insisted that Egrant belonged to the Prime Minister, depsite an inquiry finding no proof to substantiate such an allegation.
Delia was asked this morning for his reaction to Busuttil's outburst in Parliament, with the Opposition leader insisting that Busuttil was free to believe what he pleased.
When the Egrant inquiry findings were made public last July, Delia had removed Busuttil's good governance portfolio and even asked him to suspend himself from the parliamentary group. The PN leader eventually backed down on the latter request.
Delia said that speculation on the Panama company's ownership was being fuelled by the Attorney General's refusal to publish the full Egrant inquiry report, and that he preferred to have all the information at hand rather than believing or not that Egrant was Joseph Muscat's.
"I have been asked in the past months if I believe Egrant is the Prime Minister's, and I have responded several times that I prefer to know the facts, rather than holding one belief or another. If we knew what the 1,400 pages of the full Egrant report contained, we would at least be in a position to know all the information available through the inquiry," Delia said.
READ ALSO:
'I still believe Joseph Muscat owns Egrant' – Simon Busuttil
'Simon Busuttil is living in a parallel universe' - Prime Minister
"We need to understand that being part of a political party doesn't mean that you lose your brain and change your beliefs."
"I think that rather than have our country pass through all this turmoil and speculation - and debates in Parliament which are completely unnecessary - the easier thing to do would be to publish the document, which is of national interest, rather than withholding it so that people don't know the truth," Delia said when pressed to say whether he agreed with Busuttil's insistence that Egrant belonged to the Prime Minister.
Delia played down the significance of a live appearance he made on NET TV yesterday, at the same time that Busuttil was delivering his adjournment in Parliament. The PN leader said that he had merely been keeping to a previous television appointment and was not privy to the fact that the former Opposition leader would be addressing the House.
Inquiry on whether Caruana Galizia murder could have been prevented
Delia also called for an autonomous independent inquiry to find out whether anything could have been done by the government to prevent Daphne Caruana Galizia's murder.
He went on to underscore that the government "had not done enough to find the mandators of a serious crime", and that it had failed to provide information on which direction the murder inquiry was going.
"We also need to know whether government institutions, or anybody who was undertaking any kind of connected investigation previous to the murder, could have done anything at all to prevent crime," he added.
Delia was speaking to journalists after visiting the MCAST campus in Paola.