Updated at 6.45pm with Labour Party statement
Adrian Delia is insisting on the removal of Tourism Minister Konrad Mizzi and the Prime Minister's Chief of Staff Keith Schembri in the wake of the latest revelations involving 17 Black.
In a televised press conference the Opposition leader said the Prime Minister had no choice but to immediately remove the pair if they did not resign of their own accord.
READ ALSO: Electrogas power station investor Yorgen Fenech named as 17 Black owner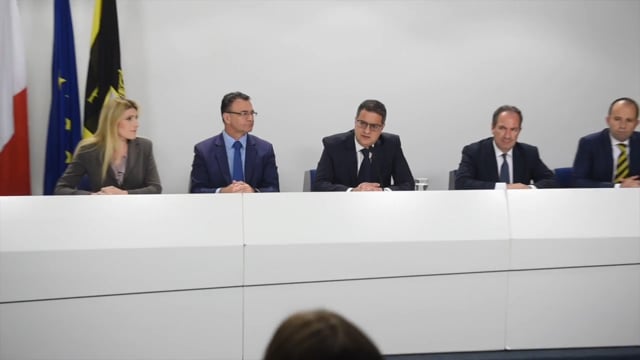 Adrian Delia is asked whether the PN will consider a vote of no confidence in Mizzi and Schembri
Delivering a confident and straightforward message, Delia said Joseph Muscat had a stark choice in front him: "Joseph Muscat has to decide whether he wants to defend Malta or his allies Konrad Mizzi and Keith Schembri."
Delia said the Opposition would not stop at this, adding it wanted to wait and see what the Prime Minister would do.
"If they do not resign of their own accord, the ball is in the Prime Minister's court and he should remove them… if he does not act, the Opposition will not stop here and will not remain silent," Delia said.
The Opposition leader was non-committal when asked what concrete action he would consider.
READ ALSO: PD calls for police investigation into 17 Black allegations
Asked whether the Opposition would consider putting forward a parliamentary motion of no confidence in Mizzi and Schembri, Delia insisted: "We will first see what Joseph Muscat is going to do. Muscat's lack of action, which is already flagrant is a message in itself… after that we will act accordingly."
Delia accused the Prime Minister of doing nothing to defend Malta's reputation.
The PN leader was flanked by deputy leader David Agius, MPs Kristy Debono, Mario de Marco and Claudio Grech.
Labour reaction
The Labour Party hit back at Delia's resignation call, insisting that it was incomprehensible for the Opposition leader to ask for resignations when he acknowledged that the 17 Black reports were "allegations".
The PL said that to be credible, Delia had to ask for an investigation into the serious allegations made against PN MEP David Casa by a whistleblower.