[WATCH] Prime Minister sticks to official line on French spy operation that ended in tragedy
After MaltaToday revealed how five Frenchmen killed in a plane crash two years ago were secret agents tracking arms movements in Libya, Joseph Muscat insists they formed part of a customs surveillance operation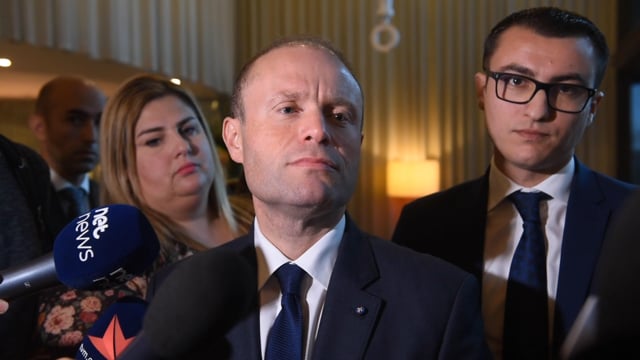 Joseph Muscat on French secret agents operating from Malta
Joseph Muscat has played down revelations that five Frenchmen killed in a plane crash two years ago formed part of a secret service mission to track weapons in Libya.
When asked for his reaction to the report carried by MaltaToday last Sunday, the Prime Minister stuck to the official line that this operation was part of a customs surveillance mission.
"The agreement we had with the French was that this was a customs surveillance mission... it is obvious to me that when you are tracking contraband and illegal trafficking there may be overlapping with security matters. I see no contradiction," Muscat said in a curt reply.
The French mission came to a tragic end in October 2016 when the small aircraft crashed in Safi, just after taking off from Malta International Airport.
Fresh information unveiled by MaltaToday has shown how this was a spy operation run from a house in Balzan by the French secret service. The mission was intended to track the movement of arms in Libya.
The aircraft had been carrying five members of GAM56, the transportation unit of the DGSE, the French secret service. The crash has been shrouded in mystery.
READ MORE: French spies in an ordinary house in Balzan
MaltaToday also revealed that two black boxes recovered from the crash site went missing after French investigators came to Malta.
The Balzan house was stripped of all evidence by the time police investigators and court experts visited the place on the evening of the crash and the ongoing magisterial inquiry has stalled because documents were sequestered by French investigators.
A source had told MaltaToday that the agents had been tracking the trail of French weapons in Libya with "live footage" from the aircraft being fed to computers at the Balzan house.
The French customs authority had denied being part of the mission and the French newspaper Le Monde had reported at the time that the five men killed in the crash were indeed secret agents. The French defense ministry later confirmed this without elaborating on the nature of the mission.