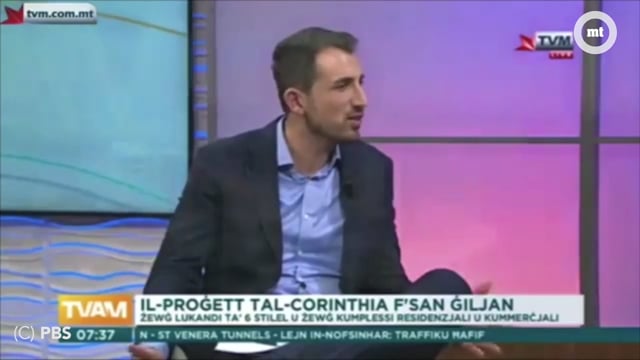 Corinthia boss Alfred Pisani defends his project: 'you must always accept progress'
The chairman and founder of International Hotel Investments plc and the Corinthia hotel chain, Alfred Pisani, has made a case for the economic benefit that his six-star development on St George's Bay will bring to the nation.
MPs have to approve lifting a restriction on the public land leased to IHI for touristic purposes only, to allow the hotel chain to build two coastal tower blocks for office and residential purposes.
The land, costed at some €121 million, will be priced at a premium of €17 million and another €35 million in ground rent redemptions, after IHI was granted €57 million in "credits" for the demolition of two of the three hotels that presently occupy the peninsula.
"We can either retain the hotels we have on the lease for another 57 years… or raise the bar on what we are offering, on both the quality of tourist and residential investor," Pisani said on TVAM on Thursday morning. "There is always an enormous spillover with hotels – the taxi driver, the hotel and its employees, restaurants, the entire country benefits. People once feared the onset of the computer: you must always accept progress," he said.
"People have to ask whether this is good for the country. In 2015 the value of the land was different when we first signed an understanding with the government. Since then there has been an adjustment. I think we've been correct in our dealings with the government and we haven't been difficult. But the point of departure is that this land is ours… and I said 'I have a project which can contribute far more than what we pay now' to the government."
Pisani defended the economic spillover from the multi-million investment and set much store by the "sophisticated image" the project would give Malta by attracting a high-spending tourist and property investor.
"I am convinced that in years to come, people will say 'what if we had stopped them'," Pisani said.
But he gave short shrift to concerns from Pembroke residents who are also protesting the approval of a 38-storey high-rise project by the DB hotel group.
"How will they be affected? We're building on the shoreline, they won't be visible from Pembroke…," he said, while defending a decision by the company to build just 30% of the 100,000 square metres available to them. He also said a land reclamation clause in the proposed contract was only standard and that IHI was not seeking a permit for a land reclamation project. "We cannot aspire to a high quality if we over-build, so we are committed to develop just 30% of this area."
Pisani also poured cold water on suggestions by the developers lobby that the price of the land would allow them to slash property prices in the event of an economic downturn. "We cannot lower the price. We will be seeking out clients ourselves, and the price will definitely be double that of the market."