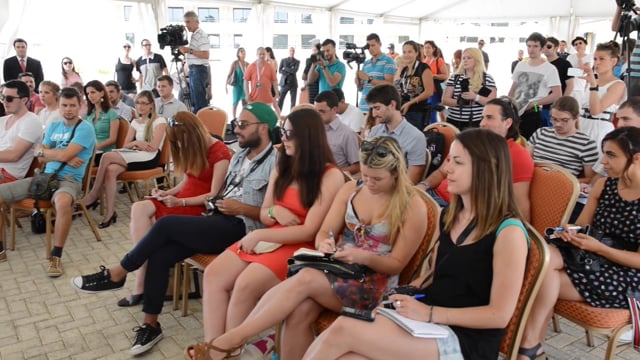 Nicole Scherzinger promises 'heart and balls' in Isle of MTV performance • Video Ray Attard
During a marathon press conference held at the Excelsior, local and intenational media were greeted by the stars of tonight's Isle of MTV concert, which will be taking place at fhe Granaries in Floriana, headlined by Enrique Iglesias and Nicole Scherzinger.
MTV VJ Laura Whitmore opened the conference by welcoming "breakthrough" electro pop artist Kiesza who rhapsodised about Malta's natural beauty and "great fish", while also commenting on how "kind and friendly" the locals are. An 'MTV Push' artist, who has been singled out by the network as an artist of promise, said she will be performing four new songs tonight.
Asked about how she will deal will the heat tonight, Kiesza confessed to a predilection for "practical" crop tops. She also spoke about her career as a songwriter, having written songs for various musicians.
"I love just branching out and working with different people, as it helps me grow as an artist," she said, adding that she would have loved to collaborate with Michael Jackson, given the chance.
Nicole Scherzinger, who had performed in Malta before as part of the Pussycat Dolls, spoke of how "gorgeous" Malta is and recounted on how she went to "swim with the tuna" this morning.
"I'm an island girl, since I'm from Hawaii, so I'm a bit like a tuna myself," she said, while ensuring her fans that tonight's performance will have "heart and balls!"
Scherzinger also teased at the possibility that she might end up sharing the stage with her former collaborator Enrique Iglesias tonight. She also said that Malta may just make a good honeymoon destination.
"Well it's definitely great if you want to swim with some tuna, anyway," she said.
Enrique Iglesias, in his third Isle of MTV visit, said that he "could live here".
"I love the Med, and Malta actually reminds me of Spain, where I grew up."
Asked whether he ever felt intimidated by his musician father, Julio Iglesias, growing up, he said that the experience actually taught him a lot. "It makes you realise that fame can be a double-edged sword in a lot of ways, and that you should never believe in your own hype."
During his previous Isle of MTV visits, Iglesias had infamously kissed the same girl on stage twice. Asked to comment about this however, Iglesias insisted it was purely a "coincidence", while describing the girl in question as "really sweet".