[WATCH] Busuttil: 'Only someone new can clear Malta's name'
Addressing party faithful at a mass meeting in Zabbar, the Nationalist Party leader insisted that the present government does not have the moral authority to defend Malta against false allegations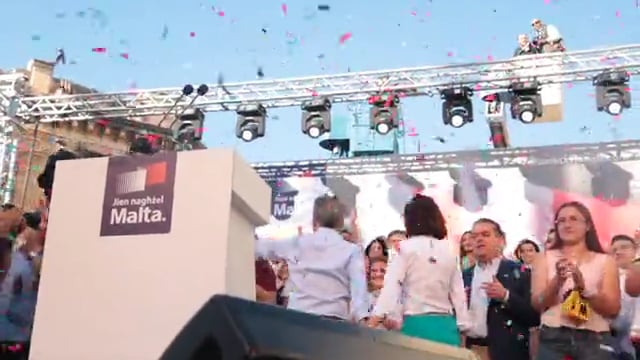 Nationalist Party mass meeting Zabbar
Nationalist Party leader Simon Busuttil has insisted that only he can clear Malta's name come 4 June.
"The country needs someone new, someone who is clean and someone who is willing to clean up politics," insisted Busuttil.
In addition to having dragged Malta's name through the mud, the PN leader said the government was now unable to defend the country against false accusations because it did not have the moral authority to do so.
Addressing a PN mass meeting in Zabbar, Busuttil said that this week he had once again found himself in the "unprecedented" situation of having to testify before an inquiring magistrate to expose corruption, adding that he had to do so because the police commissioner refused to do so and the Attorney General was too scared to.
He said he had gone to court with a whole raft of documents showing corruption by the "Castille clique".
Busuttil said the country deserved to be led by someone who was not willing to put up with corruption and who would remove those around him that engaged in wrongdoing.
He urged people to ensure that this does not go on and to use their vote to remove Muscat from office, insisting that government corruption over the past four years were not isolated incidents.
Busuttil argued that widespread corruption had now led the country into a situation where important economic sectors, such as the financial services sector, were under threat, with foreign companies and banks changing their approach towards Malta.
"We worked so hard to bring these companies to Malta, and now they are choosing other countries," said Busuttil.
Faced with this situation, he said Prime Minister Joseph Muscat was now appealing for national unity.
"Prime Minister there is already national unity, there is already a national force against corruption and the dirt you have brought with you. A national force united against you," said Busuttil.
Moreover, he promised lower taxes for self-employed people and small enterprises, free childcare for everyone in Malta, better pensions and free medicines.
"I promise more social housing for those that don't have roof over their head, and I promise the biggest investment ever seen in this country's infrastructure," he continued.
The PN leader warned people not to buy into lies being circulated by the Labour Party about what a Forza Nazzjonali win would mean for the country.
"Don't let fear win over truth. Do not let them scare you. Let us overcome the fear they want to instil," he said, adding that rumours that the PN would pose a threat to fireworks, port workers or students' stipends were unfounded.
On LGBTIQ rights, Busuttil said the PN had promised that these would not be taken away, and would work to give members of the community even more rights.
He insisted the PN would respect any agreements in place that would benefit workers, and dismissed claims that a PN government would bring about a situation where the Gozo Hospital was "no longer viable".
"A public hospital should not be looking at profits and corruption but people's health," he said, adding that if anyone should be worried about the government taking back the hospital is those who are corrupt.
He said he could understand those who had been hurt by the PN, and that when he asked those who had been hurt to vote for the PN once again, he was asking them to look past what had been done to them and to vote in the national interest.
"When you weigh that which has been done to you against the good of the country, I believe that you too will do what is good for the country," said Busutill.
Busuttil said he wanted to appeal to Labour Party supporters, who were also hurt by what was happening and who knew that what the coalition was saying was true.
"You too have been betrayed. You too deserve better and so does the Labour Party. We are not against the labour party but against a small group of people that has taken over the party and our country."
Finally, he said that those who were proud to not feel like they belonged to any of the two parties, also had a place in the coalition.
"There is a large percentage of people that have not yet decided how they will be voting, or whether they will vote at all," he said. "I appeal to you, to choose Malta as well and to join this national coalition."