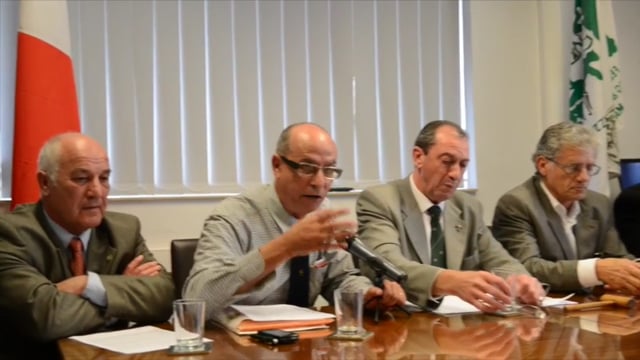 Hunters say MPs must ignore call for referendum on spring hunting (Video: Ray Attard)
The hunters federation today issued a stern warning to all hunters to respect the law, insisting that hunting could soon be abolished if hunters continue to breach the law.
FKNK president Joe Perici Calascone said that the federation was aiming at collecting more signatures than the over 40,000 signatures collected by the Coalition Against Spring Hunting.
Warning that the abrogative referendum on spring hunting would set a dangerous precedent, he said "tomorrow it could be the turn of a legal practice which we all hold dear."
Asked why the hunters were collecting signatures, the FKNK president said that it was intended to send a clear signal that the referendum "is an injustice" and the anti spring hunting campaign was "blackmailing" the country to "deny the rights of a minority."
While expressing his confidence that the proposed referendum would not be approved, Perici Calascione called on Parliament to "ignore" the over 40,0000 signatures collected by the anti spring hunting coalition.
Referendums, he added, should only be allowed when they regard national issues and not matters which only concern minorities. "We warned that this was a dangerous precedent. Whats next after civil unions, fireworks?" He asked in clear reference to attempts by evangelical pastor Gordon-John Manche to hold a referendum to abolish the civil unions bills, which is set to be approved next week.
On the series of illegalities carried out by hunters, Perici Calascone said that "not everyone wielding a shotgun is a hunter. Some have no respect for the environment and are wrongly associated with hunting and trapping which have nothing to do with it. If a member if the judiciary is corrupt it doesn't mean that all judges are corrupt."
He called on the federations members to unite and eradicate illegal hunting, insisting that "we must police ourselves," adding that "real hunters" were getting a bad reputation because of a "few rotten apples."
Expressing his disappointment on hearing that the police might consider employing drones to bolster its surveillance, Perici Calascione said that the federation is strongly opposed to such measures, especially since it is unclear whether the use of drones is legal.
The hunters' federation added that it was in talks with government, to achieve a derogation for the continuation of trapping of song birds.