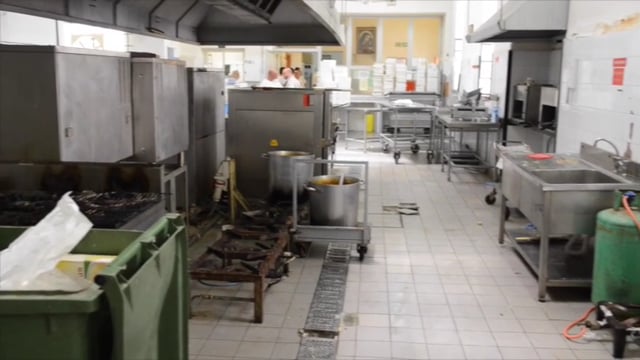 New kitchen for St Vincent de Paule - Video by Ray Attard
The kitchen which caters for all the meals of elderly residents in St Vincent De Paule is in a disastrous and appalling state.
Journalists toured the kitchen on an invitation of the Parliamentary Secretariat for the Elderly, prior to a conference in which junior minister Justyne Caruana announced that the existing kitchen will be brought down and re-built.
While journalists were invited to tour the kitchen "at their own risk," kitchen employees were asked to remain outside. An appalling smell was the first sign that things were not right, but those present soon had to be aware where to step since the floor was full of stew and other spillage.
Some tiles were misplaced, and flies surrounded old cauldrons and pans which stored the day's food. We even managed to spot a full skip in the middle of the kitchen.
Justyne Caruana said the only solution was to bring down the kitchen and rebuild the premises into a new, state-of-the-art facility.
"This situation is the result of decades of neglect. We acted accordingly when a May 12 report by the food and health safety department graded the kitchen 'F', with a 61.3% risk factor. This is totally unacceptable on a government premises," Caruana said.
She noted that the kitchen will be closed immediately and that in the meantime, the government will award a direct order for food provision for a definite period. After the construction of the new kitchen a tender for its operation will be issued.
"No employees will lose their job and we received full cooperation from unions and employees."
After the conference the junior minister met informally with some of the kitchen employees. She insisted that the project will give a safer working environment with the appropriate equipment.