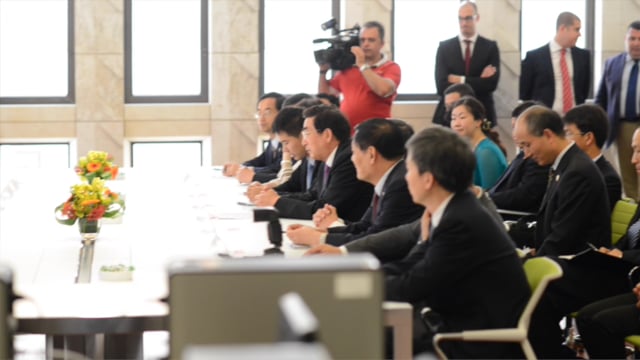 Opposition leader says 'transparency is of the essence in nurturing trust and friendship between Malta and China
The secretary of the Communist Party of China, Guo Jinlong, acknowledged the Nationalist Party's efforts to help Chinese people in distress during the 2011 financial crisis.
Speaking at a meeting between the delegation of representatives from the Chinese Communist Party and a number of PN spokespersons held at the new Parliament building, Jinlong looked back at the PN's time in parliament.
Jinlong said that the Chinese government had pulled some 5,000 people from the unrest in Europe in 2011 thanks to the assistance of the Maltese nationalist government.
"Most of those rescued were from Beijing and as party secretary of the area I am particularly thankful," he added.
Jinlong noted the party's efforts to forge closer ties with the country and he looked forward to further connections between the two countries.
"I hope PN, which is now in opposition, will continue to assist these two countries to become closer," Jinlong said.
Opposition leader Simon Busuttil explained that the forging closer ties with China had been the aim of the PN both when they were in government and in their current position in the opposition.
"In the last 5 years of the PN administration alone, some 13 agreements were signed with the country," Busuttil said explaining that the EU was also seeking closer ties to the nation.
He added that during his time as an MEP he had voted for closer relations with China on various occasions.
"We hope that this friendship will be based on honesty and on a frank exchange of views, as well as transparency," he said adding that this had been a bone of contention between the two parties since the current government came into office. Busuttil continued to acknowledge Prime Minister Joseph Muscat's efforts to promote and support more transparency.
Busuttil was accompanied by PN secretary general Rosette Thake, Whip David Agius, Financial services, IT and gaming spokesperson Kristy Debono, Tourism spokesperson Antoine Borg, Environment, Energy and Transport shadow minister Marthese Portelli and European and Foreign Affairs shadow minister Roberta Metsola among others.
Jinlong said that after his arrival yesterday he had been struck by the scenes and hospitality he had found so far.
"Although geographically we are far apart, both countries have a strong history. I believe the relationship is a paragon for other nations with such different sizes and cultures."
The consultation between the two delegations then continued behind closed doors.