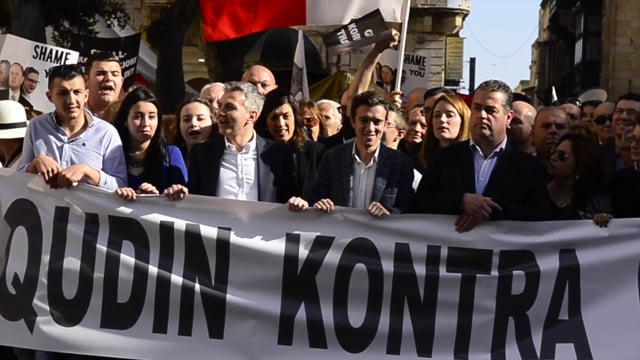 Thousands protest against government's corruption
Thousands of people took to the streets of Valletta today in protest against what the Opposition has dubbed 'a crisis of corruption' in the wake of revelations that energy minister Konrad Mizzi and the Prime Minister's chief of staff hold offshore companies in Panama.
Crowds of people of all ages filled Republic Street, waving Maltese flags, holding placards, and even wearing Panama hats, the obvious signifier for what is now being called 'Panamagate'.
Both Mizzi and Keith Schembri have admitted to having a company registered in the tax haven of Panama as well as a trust fund in New Zealand.
PN leader Simon Busuttil and deputy leader for party affairs Beppe Fenech Adami led the protest, holding a large placard stating 'Maghqudin konta l-Korruzzjoni' – united against corruption.
Other protestors carried Maltese flags and an assortment of placards, including one stating 'Labour delivers corruption' and another one showing a photo of the prime minister, Konrad Mizzi and Keith Schembri with the words 'Shame on You'.
Protestors who spoke to MaltaToday expressed their "disappointment" at a series of scandals that erupted under the Labour administration. Some demonstrators who told MaltaToday that they had voted for the Labour Party during the last general election, insisted Panamagate was the straw that broke the camel's back, and that energy minister Konrad Mizzi and OPM chief of staff Keith Schembri should be sacked.
Also present were Nationalist MPs, local councillors, and party activists.
In attendance was also former Labour MP Marlene Farrugia, the now-independent MP who last Sunday declared that she would support a no-confidence vote against the government and Konrad Mizzi.
The protest also saw Nationalist MEPs Roberta Metsola, Therese Comodini Cachia and David Casa, joined by former prime minister Lawrence Gonzi, and Ann Fenech, the PN's executive president – Labour are now setting much store by the fact that she is a partner of a legal firm which has its own connection to Panama law firm Mossack Fonseca, which was used by Mizzi to set up his company there.
Crowds started gathering at Castille Square at around 3pm before the thousands of people made their way through Merchants Street, St John Street, and Republic Street, where at the end of the protest, PN Leader Simon Busuttil addressed the crowd.
Crowds were so extensive that organisers had to tell protesters to move back and avoid injuring others after a slight moment of panic when people at the front of the crowds were pushed against police barriers.
The protest was led by the PN local councillor and Radio 101 presenter David Thake. Armed with a megaphone, Thake repeatedly chanted "Shame on You" on a loop, as well chants such as "Korruzzjoni le" (No to corruption) and "Ta Kastilja saru hbieb mal-hallelin" (Castille has become friends with thieves).
Prime Minister Joseph Muscat has repeatedly stood by Konrad Mizzi and his chief of staff but admitted earlier this week that Mizzi "could have made a better choice" when opening a company in Panama.
Mizzi has since announced that he will close down his company, following an audit by the Inland Revenue Commissioner – a decision which has since been described as an admission of guilt and a case of too little, too late by Opposition leader Simon Busuttil.