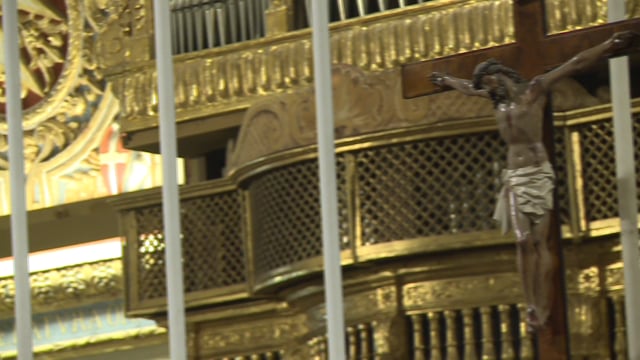 Archbishop Guzeppi Mercieca laid to rest
Mourners gathered inside St John's Co-Cathedral this afternoon to pay their last respects to Archbishop Emeritus Guzeppi Mercieca.
Among family and friends and distinguished guests, Archbishop Charles Scicluna led the funeral mass.
Present for the service were President of the Republic Marie Lousie Coleiro Preca, Imam Mohammed Elsadi - leader of the Muslim community in Malta - Presidents Emeriti Eddie Fenech Adami and George Abela, British High Commissioner Robert Luke and members of parliament from both sides of the House.
Education Minister Evarist Bartolo, as acting prime minister, is also in attendance.
During the ceremony, Scicluna read out a message sent by the Vatican's secretary of state, Cardinal Pietro Parolin. He said, that Pope Francis was "saddened" by Mercieca's death. Sending a telegram, Cardinal Prospero Grech described Mercieca "as a person I always respected for his leadership".
In his homily, Scicluna praised Mercieca's obedience and exemplary obedience to the will of God.
Recalling the turbulent times Mercieca led the Church through, Scicluna said that the late archbishop had been "a man for all seasons" who remained humble and brave throughout the challenges presented throughout his lifetime.
"He kept his head up and his faith strong throughout years of persecution."
"I thank you for being a defender of peace without ever resorting to violence," Scicluna, who had been ordained as a priest by Mercieca himself, said.
According to Scicluna, the faithful felt like they had now lost a paternal figure in spirituality.
The burial ceremony is being held privately at the Cathedral in Mdina.
Mercieca spent 30 years at the helm of the Maltese Church between 1976 and 2006. He passed away on Monday morning, aged 87, at his private residence in Zejtun.
He saw the Church go through some of its most challenging periods, facing threats by the government, led by then Labour prime minister Dom Mintoff, of seizing most of the Church's property.
Relations continued to be strained and culminated in an attack on the Curia in Floriana by dockyard workers, tearing paintings and breaking glass, furniture and statues. His leadership at this particularly difficult time did not go unnoticed, with many of the faithful singing his praises and saying they admired his level headed and peaceful leadership of the Church, over the past couple of days. Mercieca also saw the Church take its place into the new world of broadcasting.