[WATCH] Updated | Adrian Delia has asked Simon Busuttil to resign from PN parliamentary group
Nationalist Party leader Adrian Delia said that given the party had made the Egrant allegations its own in the last election he has asked Simon Busuttil to resign and has removed him from shadow minister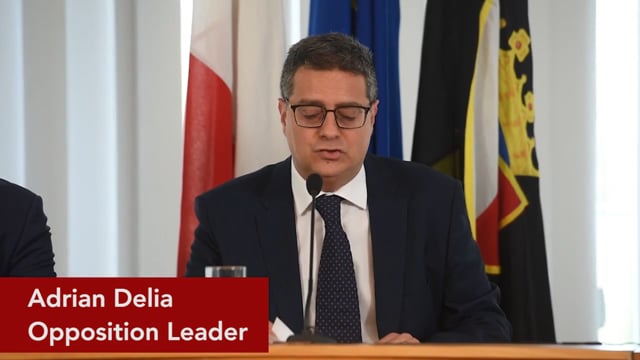 Adrian Delia's statements following Egrant inquiry report publication
Updated at 16.15pm with Simon Busuttil's reaction to Adrian Delia's resignation request
Adrian Delia has asked his predecessor to resign from the Nationalist Party parliamentary group following the Egrant inquiry findings.
"Given that the PN had made the allegations its own in the last election, I have asked Simon Busuttil to shoulder responsibility and asked him to suspend himself from the parliamentary group," Delia said in his first reaction to the inquiry findings.
Delia was addressing a press conference shortly after meeting with Busuttil at PN HQ.
Party sources have told MaltaToday that Busuttil refused to step down. Earlier, Busuttil had in a Facebook post described the Prime Minister's call for his resignation as "ridiculous".
Asked about Busuttil's reaction, Delia said the 'ridiculous' comment was directed towards the Prime Minister's call. "He still has to answer to my request for resignation," Delia told journalists.
However, the PN leader has, with immediate effect, removed Busuttil from shadow minister on good governance and asked him to concentrate on the various magisterial inquiries he initiated last year.
"Asking someone to resign is a difficult decision to take. We are in a moment where we really need to move forward. We need to understand these are not issues of a personal nature," Delia said.
Delia reiterated the Opposition's call for the inquiry to be published in its entirety and insisted the party accepted the magistrate's findings. "We trust the judicial authorities... this report exonerates the Prime Minister and his family from accusations of holding a Panama company but not those around him," Delia said with respect to the two Panama companies held by Konrad Mizzi and Keith Schembri.
Asked whether he would remove Pierre Portelli from his post within the PN, Delia said at the time the Egrant allegations were made, Portelli was not representing the party. He said Portelli had released a personal explanation on Facebook.
In his post, Portelli said he had passed on the Egrant documents that had been handed to him to the inquiring magistrate so that they could be investigated appropriately. Reiterating his trust in Magistrate Aaron Bugeja, Portelli said he was ready to cooperate with the authorities in search of the truth.
Delia said he will be speaking to PN MEP David Casa "at the appropriate time".
No reason for me to resign - Simon Busuttil
In a reaction on Facebook to Delia's request for him to resign, Busuttil said he had immediately replied to the Opposition leader that he saw no reason for himself to step down.
"Delia [asked me to resign] before he read the whole Egrant inquiry report, which hasn't yet been published," he said.
"It is also a contradiction that Delia wants to have me removed from the party, while at the same time saying he wants me to continue to work on the ongoing inquiries regarding Keith Schembri and Konrad Mizzi.
Busuttil also reiterated that it was the Opposition's duty, in a democracy, to speak up about serious allegations.
Democratic Party MP Marlene Farrugia appeared to back Busuttil's stand on the matter, saying on a Facebook video that Delia had jumped at the opportunity to get rid of Busuttil.