[WATCH] Kite festival of diversity brightens up Valletta skies
Children gathered in Valletta to fly kites alongside master kite builder Guo Hongli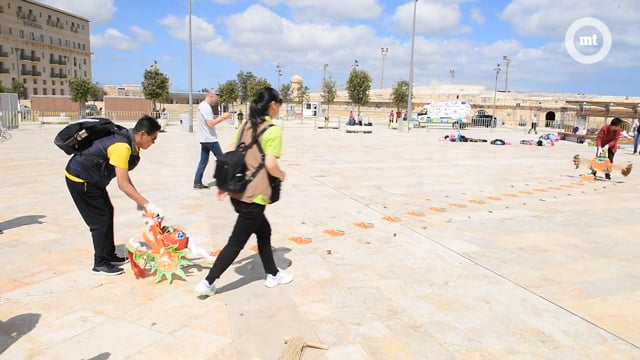 Some two hundred children gather at the entrance to the capital on Friday morning for the second edition of the Kite Festival.
The festival is being organised by the Malta Foundation for the Wellbeing of Society (MFWS), in collaboration with the China Cultural Centre and MUZA and forms part of the foundation's goal towards "inclusion, peace-building and the celebration of diversity".
"This second edition of the Kite Festival is aptly taking place during the 30th anniversary of the UN Convention on the Rights of the Child, where Article 31 highlights the right of children to play and to participate fully in cultural and artistic life," said President Emeritus and MFWS chair Marie-Louise Coleiro Preca who opened the event.
The event, held around Valletta's Triton Fountain, saw the return of master kite builder Guo Hongli, who is in Malta to teach schoolchildren how to build kites.
Kite-flying was originally used for military purposes, to send signals or messages, test wind, and measure distances. It was not until the Song Dynasty (960–1279) that kite-flying rose to popularity as a means of art and recreation, spreading to neighbouring countries across the sea and along the Silk Road, eventually reaching Western Europe.
Guo is an expert in the research and production of handicrafts kits from China's Shandong Province Weifang, which enjoys an unparalleled reputation as "the cradle of kites" and "kite capital of the world".
His demonstrations and workshops have enriched the understanding of traditional Chinese kite culture and enhanced bilateral artistic exchanges in many corners of the world.
Coleiro Preca said that Guo's workshops in Malta would give children the opportunity to learn more about this ancient Chinese tradition while engaging in interactive play with their peers.
During his stay in Malta, Guo and his team will visit five schools and also give a Kite-Making DIY Workshop.